SLU news
Raspberry meringue in the flower urns at Campus Ultuna next summer
Published: 23 October 2023
The competition about next year's flower arrangement at SLU Campus Ultuna is over. The winning entry is "a raspberry dream with hints of licorice".
As the darkness of November approaches and the vegetation retreats for the winter, what could be better than a sneak peek at next summer's floral splendor?
Around Campus Ultuna, the summer's urns have just been emptied and removed, but the planning for next year is already complete. It has been done through a competitive element in the course Urban Ecology and Plant Knowledge at the Landscape Engineer Programme in Uppsala.
The winning entry "Raspberry Dream" was produced by Sofia Rutström, Sofie Henriksson and Caroline Hallsten.
From the the jury's reasoning: "A delicious composition in white and pink that can certainly attract the eye and light up the surroundings. The composition suits the place and the urns, while at the same time standing out as a little different. Color combination and composition reflect the Raspberry Meringue theme well. A composition with a lot of energy".
Juryn consisted of Helena Espmark, Lecturer at Department of Urban and Rural Development, Viviann Blomgren and Susanne Evans Sjögren from Uppsala Municipality and Roger Holt from Kunskapsparken, Ultuna.
---
Contact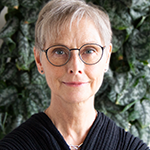 Helena Espmark, Lecturer, Division of Landscape Architecture, SLU, +4618671000,