Do your degree project abroad
Last changed: 14 February 2020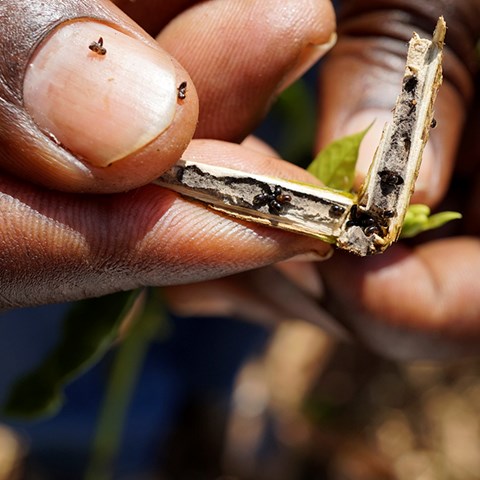 As a student at SLU you can choose to do your degree project abroad. Many SLU students, for example, do their degree project in a developing country on an MFS scholarship.
Keep in mind that you can do your degree project as part of an Erasmus or Nordplus exchange if you identify a subject and a supervisor yourself and comply with the other rules and regulations for a scholarship. The project must be connected to a university with whom SLU has an agreement, and this can be in conjunction with you studying courses there.
Degree project abroad
Degree project abroad with your supervisor at SLU
Even if you do your degree project and take a degree project course at SLU, you can choose to gather material and write it while abroad. You have your supervisor at SLU, but you do part of your fieldwork abroad. Keep in mind that it is good to contact your supervisor far in advance before the start of your degree project.
Degree project through ELLS
You can also write your degree project at an ELLS university, funded by an Erasmus+ scholarship.
Degree project in a developing country - MFS
Would you like to write your Bachelor's, Master's (60 credits) or Master's (120 credits) thesis in a developing country? You can go with the MFS (Minor Field Studies) programme financed by Sida.
Read more about MFS in the menus below.
What is MFS?
EEvery year SLU awards a number of MFS scholarships worth SEK 27,000. MFS is intended for students at first and second-cycle level who would like to gather material for their degree project in a developing country for a minimum period of 8 consecutive weeks.
MFS can be carried out individually, or together with one or two other students (max 3). As a participant on the MFS programme, you will have a supervisor at SLU and a contact person in the host country.
Purpose and goal
The purpose of the MFS programme is to give students broader and more in-depth international competence in international development partnerships, and to broaden Sweden's resource base for its international involvement and work.
The overarching goal of MFS is to give students the opportunity to learn more about developing countries and development issues and to establish contacts with this goal in mind.
Framework and criteria for MFS, Minor Field Studies (in Swedish only)
Who can apply?
The idea behind your MFS study is to gather material for your degree project at first or second-cycle level. To meet the entry requirements for applying for MFS:
You must have earned 150 credits by the time you leave, and must not have started third-cycle studies (doctoral research).
You must be a Swedish citizen or have permanent residence in Sweden (permanent residence permit). Note that the right of EU citizens to permanent residence is not the same as having permanent residence. Students from other parts of the Nordic region must have been domiciled (registered as living) in Sweden for a minimum of one year in order to qualify for an MFS scholarship.
You must have a good command of English and Swedish. A good knowledge of the official language of your host country is an advantage.
You must not have been granted an MFS scholarship previously.
You must be registered in Ladok at a higher education institution/university at the time of application and for the duration of your MFS study.
How do I apply for MFS?
Application
The application is open one month before the final application deadline. The next application period opens 15 February.
You apply online by completing a form, which is available here during the application period. All the instructions can be found in the application portal. If you have questions about the online application, please contact mobility@slu.se
**SLU gladly accepts applications from external students from other universities in Sweden, as long as the proposed field study falls somewhere within SLUs competence areas. Please contact mobility@slu.se if you have questions about external applications.**
In your application, you need to upload the following documents:
Project description
Welcome letter from the contact person in the field
Written confirmation from your Swedish supervisor
Copy of your passport (or permanent residence permit, or Nordic passport AND proof of residence)
The MFS-field study must take place over 8 consecutive weeks (at least 56 days). The decision about whether you receive the scholarship is announced within one month from the application deadline.
SLU offers three application rounds in 2019 and 2020 for MFS-scholarship. The deadlines are:
1 November 2019
15 March 2020
15 May 2020
If you plan to go abroad during the Spring semester 2020 or the summer 2020, you should apply by the November 2019 deadline. If you plan to go abroad during the Autumn semester 2020, apply by March or May deadline.
The online application works best in the web-browser Google Chrome or Mozilla Firefox. You should use your student e-mail address when you fill in the form. Note that the application cannot be edited once you have clicked 'Submit!'
Budget
The MFS-scholarship is a fixed amount of SEK 27 000 and is a travel scholarship designed to cover your expenses during your MFS-period. The amount is not intended to cover everything, but it normally needs to be supplemented with student loans, for example. You will not be asked to present
receipts, you do not need to account for your costs. If two or three students apply together, each person receives their own scholarship.
Selection and notification
SLU has a university-wide assessment committee for MFS applications who determines which students will be granted an MFS scholarship.
About a month after the time of application, you will be notified as to whether you have been granted an MFS scholarship. You may travel no sooner than two months after the time of application since you will be required to attend an MFS preparatory course prior to your departure.
Contact
If you have any queries, or would like further information, please contact mobility@slu.se.
What to do before and after your field study
Practical information about what you should do before and after your field study
You book your travel, and arrange your vaccinations and visa yourself. If, for example, you suffer from a chronic illness or if a visit abroad may affect your health, you should also undergo a medical examination to ensure that there no obstacles to you going on MFS.
Safety and insurance
You are personally responsible for keeping yourself informed before your field trip about the travel advice issued by the Swedish Ministry for Foreign Affairs regarding the country and/or region you will be visiting. Once you are in your host country, you are personally responsible for your safety through your travel insurance. You should comply with the Ministry for Foreign Affairs travel advice, please read more on their website (in Swedish only).
If you have been granted an MFS scholarship, you are covered by the Kammarkollegiet Student UT health insurance. If you stay in your host country after your MFS by yourself or travel to another country, you must take out personal insurance. In order to be registered in the Student UT insurance, you must fill in an insurance agreement, which is a tripartite agreement between you, your Swedish supervisor and your contact person in the field. This applies only to internal SLU students, external applicants do not need to fill in this agreement. You will receive more information about the insurance agreement once you have been accepted.
Compulsory preparatory course and the MFS-portal
Everyone who gets an MFS scholarship is required to attend a compulsory preparatory course before your departure. This course lasts two and a half days, and looks at development work, issues relating to cultural encounters, health issues, safety information and information specific to the country. The course takes place at the Sida Partnership Forum in Härnösand.
You can find the registration dates and course dates in the MFS portal (in Swedish). You apply for the course on the MFS-portal after you have been granted an MFS scholarship, and the MFS-coordinator will approve/reject your application. The final application date for the course is usually three weeks before the start of the course. The course is free of charge, and all food and housing is included. However, you pay the expenses yourself for travel to and from the Sida Partnership Forum training centre in Härnösand. This cost can be covered by the scholarship.
Supervisor in Sweden and contact person in the host country
The MFS study requires the cooperation of both the supervisor at SLU and the contact person in the host country. The Swedish supervisor is overall in charge of the project, while the local contact person will assist you on the spot. You need to have defined who will be your Swedish supervisor by the time of your application, and written confirmation and a welcome letter/email from the supervisor and contact person respectively are uploaded as part of your application.
The Swedish supervisor is responsible for ensuring that you are very familiar with the method you will be using and familiar with field methods in general, and for supporting and seeking to facilitate your contacts with the contact person and authorities in the host country. In order to arrange a supervisor at the university, contact your course/programme director. The academic supervisor at SLU (or home university) will have the same responsibility as they have for other degree projects at the equivalent level.
The contact person in the host country shall assist the student with practical arrangements, such as finding people to interview and providing advice on accommodation, transport and safety information. The contact person in the field need not be someone with an academic connection to the host country.
According to the guidelines for MFS, the student may reimburse the contact person for minor expenses in connection with such assistance. These may be for local travel, compensation for material etc. The contact person will receive no further reimbursement from the MFS programme. It is advisable that the student and contact person come to a clear agreement on costs and reimbursement that will allow these to be included in the student's budget.
After your return
Homecoming meeting with the MFS coordinator
Once you have come home, you will meet the MFS-coordinator, either in person or via Skype/telephone. During the meeting, we will talk about your time in the host country, your experience with the MFS programme, and how it can be improved in the future. Book a time with the MFS coordinator via mobility@slu.se.
MFS-thesis
The thesis shall be written in English or, if approved by your department, in the official language of the host country. It shall be assessed in accordance with the criteria for essays/degree projects which apply at the department in question.
The thesis shall be approved by an examiner no later than six months, where possible, after your return to Sweden. The MFS-coordinator will upload the essay on the MFS-portal. You can also read essays by past MFS students in the portal!
Travel report
Once you have completed your MFS study, you must write a short account of your experiences and upload it on the MFS-portal. The MFS-coordinator will receive notification that you have written it, and will approve it to be published. You can also read the travel reports of previous MFS students in the MFS-portal.
Survey about participation in the MFS-programme
It is obligatory to fill in a participant survey about your experience with the MFS-programme upon your return home. The link to the survey is found in the 'My MFS' portal.
Dissemination of information
Once you have completed your MFS study, you should take every opportunity to inform others both at your university/higher education institution and in the student newsletter/mass media about the Sida-financed MFS programme and about your MSFS study and its results. You can present your MFS study to students who are in the year below you, write an article in the students' union paper, make a poster showing pictures and text etc.
Upload (submit) your travel documents
When you return, you must upload your travel documents in the 'My MFS' portal. This can be either a copy of your boarding passes, or the page(s) in your passport with the stamps from when you landed in the host country and when you returned to Sweden (all travel documents should be compiled into one PDF-file). We will save your travel documents up to 5 years after you complete your study, according to the rules set forth by the Swedish Council for Higher Education (UHR).
---
Contact
---
MFS forms
Information about degree projects

Page editor: utb-webb@slu.se