Scientific poster (ppt)
Last changed: 12 March 2018
A poster is an excellent way of presenting complex ideas in an easy-to-understand way and to give a quick overview of data, like an "ad" for your work. Make it inviting to read with a clear message. Do not overestimate your readers' interest – the average reader spends only one minute reading a poster!
The poster can be landscape or portrait format. It has a header with a profile image collage and a wedge, or a colour panel and a wedge, with clear dividing lines. The area for text, images and charts can be divided into three columns or merged depending on the material.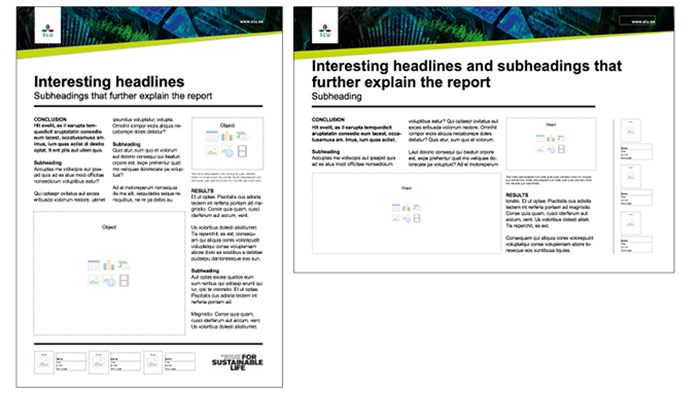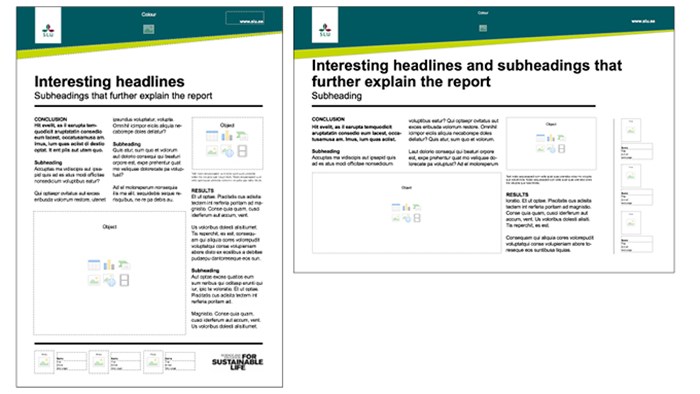 Portrait or landscape?
What format to choose depends on where the poster will be displayed. Make sure you check the required size before you start designing your poster, and set the correct measurements in the software you use. If you have a choice, a landscape poster is often preferable as you can then present more text at eye level, making it easier to read.
Tips and hints for creating posters
Tips and hints for layout, headings, images and colours when creating scientific posters (Word)
---
Print your poster
Repro Alnarp
Division of Facility Management, SLU Service
Gary Nilsson, supervisor
gary.nilsson@slu.se, +46(0) 40-41 50 08
---
Questions about Powerpoint? If your unit has an agreement for IT support, contact it-stod@slu.se or phone 6600.

Page editor: varumarke@slu.se