What's for lunch?
Last changed: 09 November 2022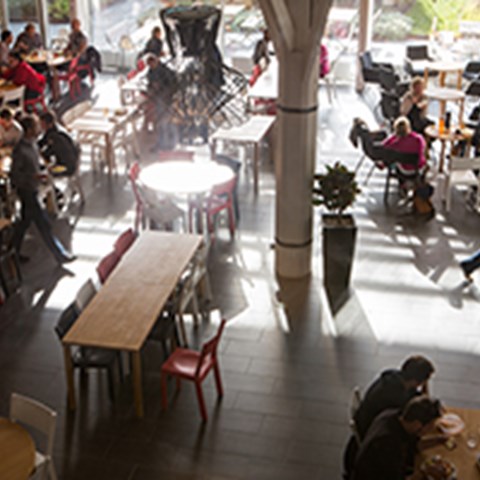 Hungry? Here is a list of restaurants and cafés on SLU's campuses. At the bottom of the page you'll find a list of places to eat close by the campuses.
Alnarp
Alnarp 9 - Pembert & Company
Phone: +46 70-677 88 20
kontakt@alnarp9.se
Opening hours are: 08-16. Lunch is served 11.30-13.30.
Menu and more information:
Website
Facebook
Plantkaféet
Among unique potted plants from all corners of the world, espresso, soup and grilled sandwiches are offered to take out and eat in the park.
Open daily 9-15, weekends at 11-15, in Alnarpsgården.
Foodtrucks (outside Alnarpgården)
Mondays: Tabemasu Ka-Jen
Tuesdays: Casseroll Sustainable Eating
Wednesdays: Seafood Paradise
Thursdays: Fisky Business
Fridays: Falafel Street Food
Skara
Skara konsthotell (in Swedish)
Skara stadshotell (in Swedish)
At the reception desk, tel 0511-67100 or service-skara@slu.se, you can also order catering (sandwiches, fika or lunch).
Ultuna
Amigo in Ulls hus
Opening hours: 08.00-15.00.
On the ground floor of Ulls hus, close to the elevators is the shop Amigo. Serves coffee, tea, smoothies and other beverages, as well as pies, sallads, sandwiches etc.
Café Moccado
Situated in the VHC-building on Ulls väg 26. Serves coffee, tea, smoothies and other beverages, as well as pies, sallads, sandwiches etc.
(Ordinary opening hours: Monday–Friday 9.00–14.15.)
Curry Buddies
Curry Buddies' foodtruck serves 100% vegetarian food, with inspiration from Bangladesh, India, Pakistan and Sri Lanka, outside the VHC building.
Open: Monday-Friday 10.00-15.00.
Read more here: https://www.facebook.com/currybuddies/
Matverkstan on Ultuna
Matverkstan is situated on Ulls väg 4, close by VMF, Veterinärmedicinska föreningen (the veterinary students' union). The menu is here:
http://www.mat-verkstan.se/veckans-lunch/.
Open for lunch Monday–Friday 11.00–13.30.
Restaurant Logen with cafe
Almas alley 14. Open between 8am and 3pm. Lunch is served from 11.00 to 14.00. Menu on their website here (in Swedish): https://www.restauranglogen.se/
Ull's restaurant
Ull's restaurant is closed for the summer from 14 June and reopens on 30 August.
Ull's restaurant is situated on Duhrevägen 8.
See Ull's current week's menu.
Only payment by card is possible at Ull's restaurant.
Umeå
Hansson and Hammar
Restaurant on floor 3 of "Skogishuset", Campus Umeå, www.hanssonohammar.se
Opening hours: Monday-Friday 11 am - 1 pm
Kafé KBC
KBC-building, http://www.gncatering.se/sv/vara-cafeer.htm
Opening hours: Monday-Friday kl. 08.00-16.00
Real Food IKSU
https://www.facebook.com/realpokebowlandsushiiksu
The Little Indian
Teknikhuset, http://thelittleindian.se
Opening hours: Monday-Friday kl. 08.00 - 15.30
Universum
Universum in Umeå offers today's lunch. Opening hours: Monday-Friday 10.30-13.30. https://www.compass-group.se/MatDryck/Restauranger/umea/universum-umea-universitet/
---
Contact