SLU news
In memory of Hans Rosling
Published: 09 February 2017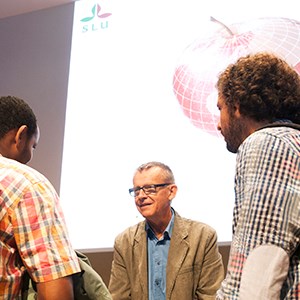 Professor Hans Rosling (1948–2017) has left us, but his work will provide inspiration for future efforts.
'Hans Rosling has passed away all too early, and in him we have lost not only a brilliant teacher but also a champion for the relationship between health and agriculture and its importance for the development of poor countries. Hans Rosling, Professor of International Health at Karolinska Institutet, was a welcome guest at SLU – be it as a lecturer, filling our auditorium with students and staff, as a partner in research cooperation or taking part in teaching activities.
His passion for research and evidence-based teaching included both the need for rationalisation of agriculture and the potential of women's increased participation in development for food security and nutrition.
These were obvious elements in what he became best known for: explaining the patience needed to understand the development away from hunger and poverty. He made this slow, ongoing positive process media-friendly, and that in a media landscape with increasing difficulties dealing with anything else than 'breaking news' in our own urban, cultural sphere.
Hans remains in our hearts and this helps us deal with the responsibility we all have to contribute to creating the conditions needed to reach the UN's new sustainability goals, which now include not only reducing but also eradicating poverty and hunger' writes Professor Anders Malmer, Director of SLU Global.
'Many of us at SLU have been inspired by Hans Rosling. His deep humanism, optimism and outstanding teaching skills, coupled with his open-minded confidence in facts, never ceased to arouse admiration. We will not forget his analyses, or him as a person,' writes SLU Vice-Chancellor Peter Högberg.
---
Contact