SLU news
The 2023 Student Barometer – influence your study environment at SLU and win cinema tickets!
Published: 20 February 2023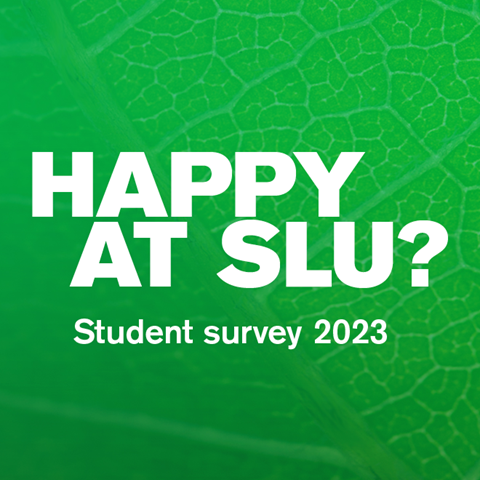 Are you happy at SLU? Between 20 February and 10 March, SLU students will be invited to participate in a survey. If you complete the survey, you will be entered into a prize draw to win cinema tickets.
The Student Barometer is a way for you to share your thoughts and opinions about your studies and student welfare. Your study environment includes your workload, how you are treated and the support you get as a student. The survey will form the basis of quality assurance work for programmes and courses and a positive study environment.
You will be emailed a unique link to your SLU email address (ends with stud.slu.se). Is is an online survey you can access via your computer, tablet or phone.
Your answers are important
SLU wants you to enjoy your time here, and to leave university well equipped for the future. The results need to give an accurate account of the study environment to enable SLU to take the right steps to improve it. This is why it is important that as many of you as possible respond to the survey – and that your answers are honest. Responses from previous surveys have led to attempts to reduce high workloads and stress from certain courses and better information about how to report harassment.
What will the survey include?
The Student Barometer looks at four areas:
Recommendation: Would you recommend your course/programme to others? Why/why not?
Teaching and education: How are you finding teaching?
Support and service: Do you know what support is available? Are you happy with the support?
Study climate: How do you feel about your psychosocial environment?
You will also be asked some background questions.
Your answers are anonymous
All responses are confidential, and it will not be possible to trace your answers back to you. If only a few students from a programme or small group respond, the results will only be available as part of a larger summary. This is to ensure that no person can be traced back to individual responses.
A chance to win cinema tickets
Quicksearch is in charge of the prize draw and your anonymity will not be affected.
Who is responsible for the survey?
The survey is being run by the Division for Educational Affairs with input from the Student Welfare Council. We have enlisted Quicksearch to help us with the survey.
---
Contact
Ylva Eklind
Coordinator at the Division of Educational Affairs
Telephone: +4618 671265, +4676 1255127
E-mail: ylva.eklind@slu.se