SLU news
The award SLU Alumnus of the year 2019 is awarded to Svante Axelsson for his efforts to make Sweden fossil-free
Published: 16 December 2019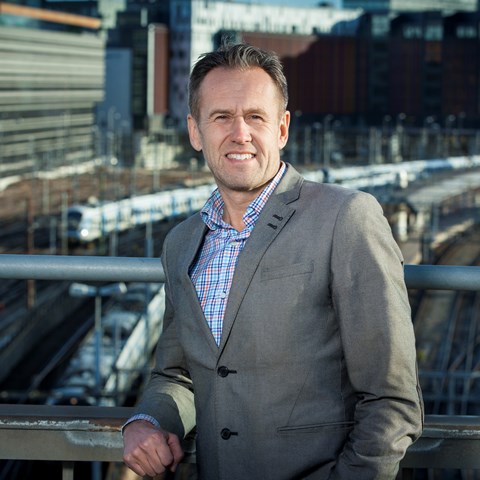 SLU presents this award annually to a former student who has contributed to creating conditions for a sustainable, thriving and better world. This year, the award recipient is Svante Axelsson, national coordinator for Fossil Free Sweden.
'Being appointed SLU alumnus of the year is proof that my work really is necessary. It provides inspiration and energy to continue the work of creating a fossil-free Sweden. Problem-solving in transdisciplinary issues, close to real-life problems, was an important part of my studies at SLU. Having that background has been very valuable in the different posts I've held,' says Svante Axelsson.
On behalf of the Swedish government, Axelsson is now leading the work to make Sweden one of the first fossil-free welfare countries in the world. Today, the initiative brings together participants like companies, municipalities, regions and organisations and has led to Swedish business sectors now producing roadmaps for fossil-free competitiveness. Fossil fuel is currently responsible for about 30 per cent of Sweden's total energy consumption and is the main source of greenhouse gas emissions that lead to climate change.
'Sweden has already come a long way. Most business sectors have done their homework and produced roadmaps for fossil-free competitiveness, as well as starting to reduce the use of fossil fuels as an inevitable, but positive transition. But we need to get even better at communicating climate change and showing that Sweden will become a better country to live in when we are completely fossil-free. It's about phasing out fossil fuels and instead investing in biofuel, increased efficiency and electric vehicles', Svante Axelsson concludes.
Svante Axelsson graduated from SLU in 1988; his degree was in agricultural science. Before taking up his current position at Fossil Free Sweden, he was secretary-general of the Swedish Society for Nature Conservation for 16 years, where he was a part of the society's change of tone and shift of focus – from problems to solutions.
'Svante Axelsson does an extremely important job for society and is a good example of agronomists being able to take on a wide range of professional roles. He, like many of our students and staff, is passionate about the transition to a sustainable society. We are also happy that he, for many years, has contributed to our teaching as a teacher of environmental economics,' states SLU Vice-Chancellor Maria Knutson Wedel.
---
Contact