SLU news
SLU in the new THE World University Rankings
Published: 26 September 2018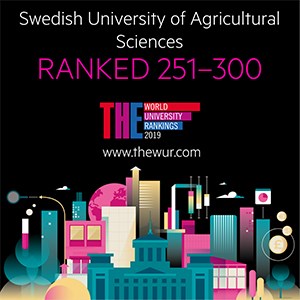 Within Sweden the Swedish University of Agricultural Sciences is ranked eighth out of the eleven Swedish universities that appear in the Times Higher Educations (THE) ranking list of world-class universities, published today. Like last year, SLU's position is in the interval 251–300.
The ranking is based primarily on how well the universities perform in three major categories: research, teaching and citations. This year 1258 institution are included in the rankning.
THE also publish annual rankings of the world's best young, and small universities, respectively. With a 36th place in the world list, SLU was earlier this year ranked as Sweden's best "young university" (2018-06-07), and as one of the world's ten best "smaller universities".
Read more about the THE ranking here
---
Contact