How does exchange studies work?
Last changed: 31 May 2023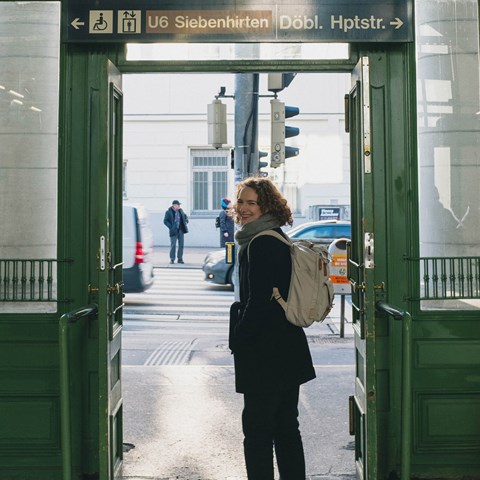 There are many ways to gain international experience. Exchange studies means that SLU has an agreement with another university, so you are able to study there for one or two semesters with no additional study fees. In some programmes, a scholarship is included, or sometimes special rules apply.
If you want to go on an exchange study programme, it is important that you apply early and ensure that your application is well written. You must personally investigate if there are courses at the foreign university that you can take and then transfer the credits to your degree at SLU. Therefore, it is important that you discuss your study plan with your programme director of studies or the Erasmus Coordinators available.
Most students in three-year programmes choose to go on an exchange during their final year. Students in longer programmes usually find it best to do their exchange studies during year four or five.
You can apply for student finance from CSN for your exchange studies if you are normally eligible for CSN. In addition, if you choose to study at a university in Europe with which SLU has an agreement, you are eligible for a scholarship automatically.
Tuition fees: As an exchange student, you do not pay tuition fees to the host university. If you normally pay tuition fees to SLU, during your exchange, you will pay tuition fees as normal to SLU, but you will not pay tuition fees to the host university. Find more information about Erasmus+ and practical information about exchange studies below.
Checklist for Exchange Studies
You can prepare for your application for exchange studies by looking at our checklist. The checklist guides you step by step through the process, and helps you understand everything you'll need to prepare for your exchange.
Checklist
Is study abroad for me?
Finding a suitable university and courses abroad for your exchange studies requires some time and engagement. You should be prepared to independently find information, course catalogues and application instructions at the host university's webpages.
If you need help or support when thinking about study abroad and what it can mean for you and your studies, talk with a study and career counsellor:
https://student.slu.se/en/study-support/study-support/study-and-career-advice/
When can I go?
It is often easiest to go abroad during a time in your study program where you can take elective courses. Contact your program director of studies to determine the best time for you in your program. You will find the contact information for your program director of studies on the program page on the student web: https://student.slu.se/en/studies/courses-and- programmes/
Where can I go?
Choose up to four partner universities where you would like to study. Keep in mind that the universities should have courses which are relevant to your area of study. Rank the choices in your application. You can see all of SLU's partner universities you can choose between in our Database of Exchange Opportunities: https://slu.moveon4.de/publisher/2/eng
Finding courses
The courses you take while you are abroad must be able to be transferred and credited within your degree. Finding course catalogues, course descriptions and academic calendars from foreign university's websites can be a bit tricky, but consider your search as an opportunity to get to know the universities a bit better while browsing and looking for information on their websites. Remember that some universities use different terminology than we do here!
To find the information easier, try these tips:
Choose English as the language of the site
Use the search engine function on the homepage, try to search with keywords such as: "exchange studies," "international student," "prospective student," "international office," "course catalogue," "syllabus," "academic calendar," or "module" (courses may sometimes be called modules)
Often, it's sufficient to look at the courses that have been offered during the previous or current academic year. Course lists for coming semesters are often published later on, right before the start of the semester.
Video recording, tips- how to find courses
Communicate with your programme director of studies
Once you have chosen courses, you should discuss with your program director of studies to discuss your choices of courses and the possibility to transfer your credits within your degree when you come back.
Remember to think about which courses you will take when you come back from your exchange, and double-check that you will fulfill the prerequisites after being abroad.
You can find contact information for your program director of studies on the program page on the student web: https://student.slu.se/en/studies/courses-and-programmes/
Apply by 22 November
Begin your application early, and please always use your SLU email as your login. It is important that you take some time to properly answer all the application questions. Remember that you can begin your application, save what you have filled in, and return to it later.
For the majority of partner universities, you can change which semester you want to study abroad even after you have submitted your application.
Please contact the Mobility Team if you have any questions about the application.
International opportunities within your programme
Our International coordinators, together with the programme study directors at SLU works with making visible different mobility windows that exist within the various educations at SLU.
On this page you can see which of the educations have completed mobility windows.
More information about exchange studies
Erasmus + Programme
If you wish to study at another European university, you can do so as an Erasmus+ exchange student. Erasmus+ is an exchange programme financed by the European Commission. Everyone who is accepted to an Erasmus+ exchange receives an Erasmus+ grant automatically.
The scholarship is a grant to cover additional costs in during your exchange. The grant amount is calculated per day, and varies depending on which country you go to. 70% of the scholarship is paid before the exchange; you receive the remaining 30% when you return home after a completed exchange. The grant amounts are listed below:
Group Countries
Group 1: Countries with high cost of living Denmark, Finland, Iceland, Ireland, Liechtenstein, Luxemburg, Norway, United Kingdom. Euro (€) per day 15,30€ per month (30 days) 460€
Group 2: Countries with medium cost of living: Austria, Belgium, Cyprus, France, Germany, Greece, Italy, Malta, the Netherlands, Portugal, Spain. Euro (€) per day 13,30€ per month (30 days) 400€
Group 3: Countries with low cost of living: Bulgaria, Croatia, Czech Republic, Estonia, Hungary, Latvia, Lithuania, North Macedonia, Poland, Romania, Serbia, Slovakia, Slovenia, Turkey. Euro (€) per day 13,30€ per month (30 days) 400€
Grant amounts are determined by the Swedish Council for Higher Education (UHR).
Green Erasmus+ grant
Do you want to travel environmentally-friendly to/from your exchange destination? You can apply for a grant of 500 SEK if you travel with green transport. Apply by uploading your used environmentally-friendly travel tickets in the MoveON exchange portal after your completed exchange, and you will receive the grant together with the second payment of your Erasmus scholarship (the remaining 30%).
Additional support for Erasmus+ students with disabilities
If you are currently receiving disability support at SLU, you can also receive this during your exchange.
Outgoing Erasmus+ exchange students who receive disability support at SLU may be eligible for additional funds from the Swedish Council for Higher Education (UHR) during your exchange. These funds can cover up to 100 percent of all additional costs in connection with the mobility abroad.
In this case, 'additional costs' means expenses incurred by you or your host university that are not otherwise covered by other means, for example:
transport
teaching materials
housing
personal assistant
medical follow-up, physiotherapy
medical examination in the host country
Contact the Mobility Team at mobility@slu.se for more information.
Support for Erasmus+ students with children
Outgoing Erasmus+ students and interns accompanied by their children can apply for extra funding in addition to the Erasmus+ scholarship. The grant amount is EUR 200 per month on top of the ordinary Erasmus+ grant. Please contact the Mobility Team for more information.
Erasmus+ mobility to the UK
Since 1 February 2020, the United Kingdom is no longer a member state of the European Union, however will participate in Erasmus+ until the end of the current programme, Call 2020. As long as funding is available and a valid exchange agreement in place, Erasmus+ student mobility to the UK is possible until the end of May 2023 (last mobility date 31 March 2023).
From 1 January 2021, a student visa is required for studies in the UK lasting more than 6 months. Students studying in the UK for less than six months do not need to apply for a visa. This also applies to both Erasmus+ students and trainees who carry out their mobility in the UK.
Term dates
At foreign universities the term dates may look different than at SLU. This may imply that the exchange period and the start or end of the semester at SLU overlap. As a student, you are responsible for resolving the situation with overlapping courses. You can get help with the planning of the course layout from a study advisor or your programme study director.
In the event that the semester abroad starts later than when SLU's semester starts, you can e.g.

read a course/sub-course at SLU before the exchange period begins.

In the event that the semester abroad ends a bit into SLU's next semester, you can e.g.

postpone or waive the first part/course at SLU.

If there is flexibility regarding examinations and exams at the host university, you can review the possibility of bringing the examinations abroad earlier or alternatively completing the course(s) via distance learning.
If you cancel your Erasmus+ exchange
Please contact the Mobility Team at mobility@slu.se if you have to cancel your Erasmus+ studies before the end of your mobility. If it is due to conditions that are beyond your control, the Mobility Team may be able to apply for 'force majeure' on your behalf. In the case of cancellation, be sure to contact the Mobility Team as well as your host university international office.
If you need to cancel your Erasmus+ studies before the start of the mobility, please contact SLU mobility team on the same email adress.
Erasmus+ Charter for higher education
In order for a university to be included in Erasmus +, the university must have been awarded an Erasmus Charter. The Erasmus Charter describes the commitments a university has towards its students and vice versa. You can read more about what rights and obligations you have as an Erasmus Student in the Erasmus Charter for Higher Education.
Residence Permits and Visas
If you are going to study in an EU country (including Switzerland, Norway and Iceland), you do not need a visa or residence permit. It is however recommended that you register with the local authorities upon your arrival if you will stay for more than 3 months. You must have a valid passport.
For countries outside of Europe, a residence permit or student visa is usually required. You will receive instructions and information from your host university about applying for the visa, and will likely require some documents from them. Do not apply for a visa until you receive instructions from your host university.
However, it is smart to check what documents will be required, and familiarize yourself with the application process by checking the website for the embassy or consulate of the country where you will study. Note that you cannot apply for the visa until you have received your acceptance letter from your host university. You are responsible to cover all visa costs yourself.
If you have a residence permit in Sweden and you are going on an exchange
Your residence permit in Sweden will not be valid to live and study in another country. You will need to apply for a residence permit/visa for that country. If you will return to Sweden after your exchange to finish your studies, you will need to reapply for a new Swedish residence permit after your exchange.
Insurance during your exchange
During your exchange, you are insured through the SLU insurance policy for outgoing exchange students (called Student OUT) from Kammarkollegiet. It is valid starting two weeks before the term start, and until two weeks after the semester ends. It is only valid in your country of exchange. If you travel to another country during your exchange, you should have extra travel insurance.
Read the full terms and conditions of the Student OUT policy on Kammarkollegiets website.
Students going on exchange to the USA or Canada may be required to pay for an extra insurance through the host university. You can loan money from CSN to cover this cost.
If you are an EU citizen and go on exchange within Europe, you should also have the blue EU health insurance card. Swedish citizens can get this card from Försäkringskassan; citizens of other EU countries should turn to the national healthcare or welfare agency in your home country.
Learning Agreement and Transfer of exchange credits
Before traveling abroad, all exchange students are required to submit a Learning Agreement. The Learning Agreement is a tripartite agreement between you, your program director at SLU (PSR) or Erasmus coordinator, and your host university. It will help you later with the transfer of your credits upon your successful completion of the courses. You will receive instructions from the Mobility Team on how and when to fill it out.
SLU accepts two versions of the Learning Agreement: the Online Learning Agreement, or the PDF template version. You must choose only one version, you do not need both. Here you can find the Instructions for the Online Learning Agreement, and the PDF template version can be found in the MoveON Exchange Portal once you have been accepted to an exchange.
When you have completed your studies abroad, you must apply to transfer your credits so your studies abroad will count towards your degree. You will find further information on the Student web page on credit transfers. Apply to transfer your credits in Student Ladok.
Study abroad without assistance from Mobility Team (Free-mover student)
Does SLU not have any partner universities that interest you? Do you want to study abroad anyways? It is still possible. Keep in mind that you must allow yourself plenty of time to prepare, because you will need to obtain all the information, maintain the contact with the university and authorities, as well as arrange your choices, application, and everything else on your own.
Find out how much the tuition fees are, if applicable. Certain universities in the EU charge no fees if you are an EU citizen.
You yourself must organise your visa, accommodation, insurance and all other practical matters.
Embassies and consulates, or institutes connected to them, can often assist with information.
If you require student finance, you need to check that the university is recognised or comes under state supervision. You are responsible for finding out what the actual study programme costs; i.e. if it qualifies for student finance and if the credits earned can count towards your studies on your return home. Contact CSN.
Make sure that you meet the entry requirements and have sufficiently good language skills. Usually your upper secondary school qualifications will require translation. A template for translation into English is available on the Swedish National Agency for Education's (Skolverket) website.
If you need an approved translation of your qualifications, you can apply to Kammarkollegiet for an authorised translator. NEVER submit the originals of your qualifications.
If you have any certificates showing that you qualify for higher education courses, you can obtain these from the Swedish Council for Higher Education's website (UHR).
Contact the university directly and ask for information and application documents. Some countries operate a central admission system, while others require you to apply directly to the university - this can also vary within the same country.
Fill in your application with care. An application which is not correctly filled in or not received in time may be discarded straight away!
There are a number of private-sector institutions which recruit students for universities abroad. They are very familiar with these universities, and usually assist with applications and everything of relevance that is free of charge, since they are funded by these same universities for whom they are recruiting. This means that you may have to pay the tuition fee at "their" university.
You should apply for approved leave from your studies for the period you are studying abroad.
Maybe you can find out about some scholarships worth applying for? There are compiled lists available online and companies who will perform searches for a fee.
Every now and then, SLU receives information about summer courses at different partner universities. Below, you'll find some examples of summer courses 2023. You are responsible for completing the application to the courses, including look over the alternatives for sholarships or CSN.
Leeds International Summer School (LISS) 2023!
Find out about the application proccess and deadline here.
The summer school will run from 1-29 July 2023 (block one: 1-15 July, block two: 16-29 July).
Travel, study and get social with LISS and make summer 2023 count. Study at the University of Leeds, a world top 100 university, and immerse yourself in British culture by joining our exciting short programme for two or four weeks in July. Find out more at the website of Leeds international summer school
Earn credit and choose from over 20 academic modules (courses) across a wide range of subject areas:

Arts and Humanities
Business
Engineering and Science
Political and Social Sciences
Summer courses at Aarhus University
Information about summer courses at Aarhus University.
Application form for Nordplus scholarship
Contact Mobility@slu.se for more information.
---
Contact