SLU news
Presenting your research on a conference?
Published: 27 June 2019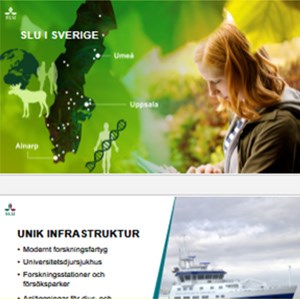 Use SLU's new ppt templates, both for your presentation and for your scientific poster. You can start with the general SLU presentation and fill it up with your own slides.
If you have a SLU standard-configuration PC, the templates are available in Powerpoint in the folder Personal. Choose New to get there.
There you will also find a new user guide with a Swedish and an English speaker voice. Read and listen to this before you start doing your presentation.
Pages where you find the templates if you have another type of computor:
---
Contact
Brand Management and Communication Platforms Unit
Division of Communication