SLU news
PhD course awarded
Published: 18 November 2019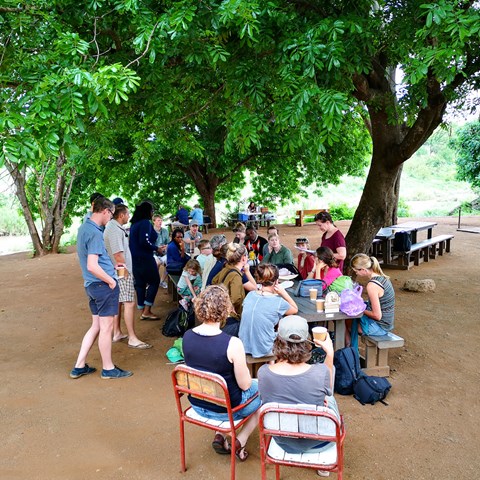 The course Global Perspectives on Adaptive Wildlife Management has received the Faculty of Forest Science's award for best PhD course.
The course was organized in collaboration with the Nsasani Trust and held for five weeks early 2019 in Sweden and in the Kruger National Park and surroundings in South Africa. 19 doctoral students from universities around the world discussed the management of wildlife and other natural resources from an international perspective.
Lecturers came from various disciplines, from ecology to political science, and various universities (SLU, Nelson Mandela University, Umeå University and Utrecht University).
The doctoral students became acquainted with the theory of adaptive management and together developed their understanding of different management and conservation strategies in an international context. They compared management systems and model species from the southern and northern parts of the world and analyzed their differences and similarities.
The students also had many opportunities to engage with local actors working on natural resource management in South Africa.

Photo: Sabrina Dressel
Part of the research school ECOS
The course was given as part of the research school Ecology and Society, ECOS. The course leader was Joris Cromsigt from the Department of Wildlife, Fish and Environmental Studies.
- This course was unique in that it brought together students from Africa and Europe to jointly discuss future challenges in sustainable development from very different perspectives, says Joris Cromsigt.
The course provided training on how to communicate scientific research ideas to various different groups of stakeholders. Several events for the public were held to encourage outreach to school children, locals and tourists.
Sabrina Dressel, herself a PhD student at the Department of Wildlife, Fish and Environmental Studies, was co-organizer and one of the dedicated teachers on the course.
- Having students and teachers from a variety of backgrounds and with diverse experience in the field created an unbelievably rich course. Our discussions, outreach, and group work created so much more than what normal lectures could teach, says Sabrina Dressel.
"The best course I have ever taken"
The course was very well-liked by the students and in the course evaluation you can read motivations such as "The best course I have ever taken and a memory for life! " and "The course has given me a broader perspective not only on adaptive wildlife management but also on ecology, landscapes, science, society and PhD-education around the world. It was truly an amazing experience."
The prize consists of a diploma and a travel scholarship of ten thousand SEK as a contribution to skills development.
The PhD course will probably be given again December 2020 - January 2021. Information will be available at www.slu.se/ecos.

Facts:
---
Contact
---
Links: