SLU news
Alumnus from SLU in one of the biggest charity events in Ethiopia
Published: 29 November 2018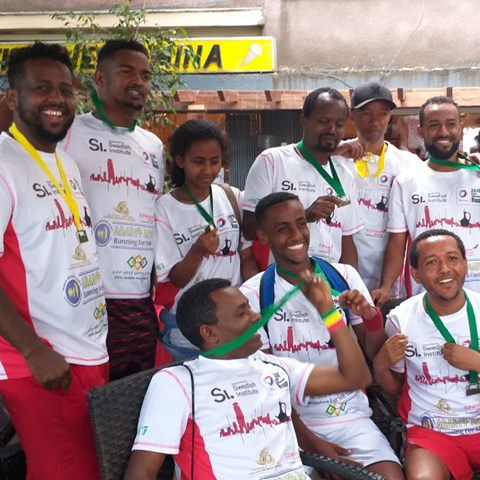 Earlier this November The Swedish Institute (SI) and their Ethiopian-Swedish Alumni Network participated in one of the biggest mass-participation event in Addis Ababa, I Run for a Cause. One of the participants in the run is an alumnus from SLU.
Great Ethiopian Run is an event management company with the mission of staging mass-participation running events in Ethiopia to support people in need in their community. The run "Running for a Cause" serves as the platform to collect donations. Last year they raised over 1.6 million birr (500 000 Euro) which made the total fund raised in the last five years to over 7.1 million birr.
SLU alumnus Diriba Muleta participated in the run. He finished his PhD in Microbiology at SLU in 2007. SLU alumni are found all over the world and they all contribute to a sustainable world in one way or another. Diriba Muleta Yadetie is a great example of this, in addition to his career as a professor in microbiology at Addis Ababa University, he is also active in the Ethio-Swedish Alumni Network who gather alumni from all the Swedish Universities in Ethiopia.
Diriba Muleta, why did the Ethiopian-Swedish Alumni Network decide to participate in the run?
- We did it to contribute to eradicating humans' chronic problems, Diriba Muleta says.
Why did you decide to be a part of the alumni network? What does the network provide you?
- There are so many reasons to be part of the alumni network. One of the most important is that I want to be close to Sweden, which is my professional development pillar. Also, the time in Sweden really raised and shaped my personality.
What is your fondest memory of SLU, and what did you think of your time here?
- I miss everything from Sweden, like the smiling faces and hospitality of Swedes, Journal Club, supporting hands of Swedish colleagues, Christmas Holidays, and frequent Conference participation. SLU has built my foundation so that I comfortably remain in Science.
What advice do you have for those who consider pursuing a research career in your field?
- At present, the driving force for any development is Biotechnology. My field, Microbiology is the key component of Biotechnology. Thus, pursuing a research in field of Microbiology is an added advantage in biotechnological advancement.
---
Contact
---
Links: