SLU news
It is now time for Ultuna Winter Classic
Published: 29 January 2018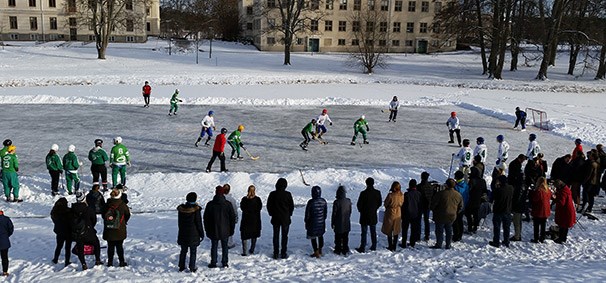 The time has come – that is, the time has come for Ultuna Winter Classic 2018 rinkball game, this year celebrating its fifth anniversary. Wednesday, February 14, the match will be played between students and employees if the weather permits on Syltanrinken.
In a spectacular showdown between students and faculty at SLU, played in one decisive rinkball game, the eternal questions will be answered: which team has the best skaters, stick handlers, and goal scorers? In short, which team will be the fifth to be engraved on the Ultuna Winter Classic Cup?
The game will be played over 2×20 minutes on the ice at Syltarinken – next to Depris and Dekanhuset – on Wednesday, February 14 with festivities starting at 1300 hours (that is 1 p.m.). The teams are limited to 12 players, fielding four players plus a pullable goalie on the ice.
Can you skate and would you like to participate? Great! First figure out which team you belong to (see below), then contact your team representative as soon as possible. See you there.
Student team: All SLU students, regardless of student union membership, including Ph.D. students that have not publicly and successfully defended their Ph.D. thesis.
Faculty team: All other SLU employees and staff, including Ph.D. students that have publicly and successfully defended their Ph.D. thesis.
Student team leader: Ellika Svenungsson
uls_if@stud.slu.se, 018-67 11 14 [ask for ULS IF]
Faculty team leader: Daniel Lundberg
daniel.lundberg@slu.se, 018-67 15 49 or 018-67 32 89
P.S. If, for some strange reason, the ice at Syltarinken is deemed non-usable, the game will be moved to the Nice Ice Arena at Valsätra IP.
Contact
Daniel Lundberg
Researcher at the Department of Molecular Sciences
Telephone: 018-67 15 49
E-mail: daniel.lundberg@slu.se
---
Contact