How to create a scientific poster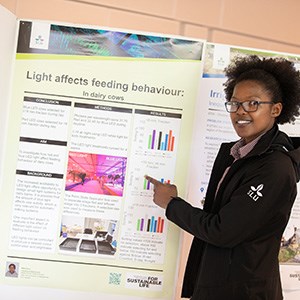 The Centre for Academic Language offers an open lecture on how to make a scientific poster. The lecture will be held online in Zoom. During the session, you will get practical tips on how you can design your own poster and present the content for a larger audience.
Registration
Upon registering you will receive an email with the log-in details.
About Thesis Day
Thesis Day takes place in the afternoon of Friday, 26 May 2023 at Ultuna and Alnarp campuses. The digital poster exhibition remains open for one year, until next year's Thesis Day.
What is Thesis Day?
A physical and digital event
Poster Exhibition: You present the results from your degree project with a scientific poster, as well as yourself, to family, friends and potential employers.
Oral presentations: Some of the particpants will also make an oral presentation about their projects.
An opportunity to celebrate your achievements and the independent project
If you can't be there in person, you can still choose to participate with your digital poster and personal presentation. See examples
The day ends with mingle and a celebration.
Facts
Time: 2023-03-28 13:00 - 15:00
City: Online via Zoom

---
Contact