SLU news
New students on campus
Published: 29 August 2023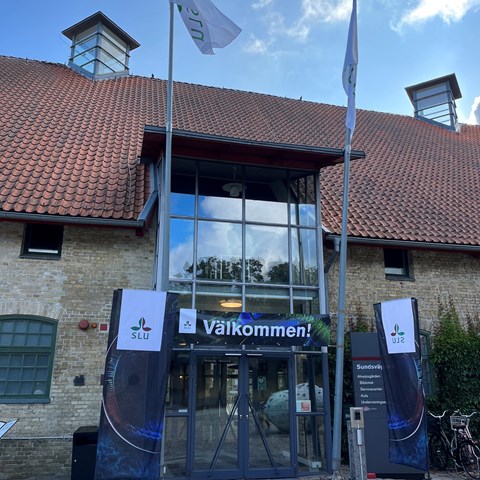 It is the start of a new semester at SLU and special welcome events have been held for new students on our campuses.
One such student is Hampus Leoo who is about to start the veterinary science programme. Hampus explains:
- My interest in animals started at an early age and has followed me throughout my studies at upper-secondary school that had a natural resources profile, and my time working at a zoo. Going on to study to become a vet is exciting, enriching and inspiring.
Ia Seppälä is another student who has a deep interest in animals. After having applied to the veterinary nursing programme, she was finally admitted as a reserve.
- Working with animals has always been a dream of mine, so when I was finally offered a place, I jumped at the chance. I hope I will learn a lot about animals and I will gain the best skills for taking care of animals in need of help.
What lies ahead once she leaves university is yet unclear, but she will figure this out during her time at SLU. Nevertheless, staying in Ultuna is currently an interesting option.
- It's so big here and there's a lot going on. Working at a clinic where you can be part of so many things would be fun and a challenge.
Emanuel Gorgis is standing outside the assembly hall waiting for roll call. Emanuel will be starting the Agriculture – Economics and Management programme.
- I've got some first-day nerves, but I'm excited and really looking forward to an inspirational programme.
Emanuel lives in Uppsala, so he is familiar with the city's student scene. He did not know much about SLU, until he started googling economics and business administration programmes.
- I'm interested in accounting and calculations, as well as agriculture. It feels especially interesting and important that I won't just be learning more about economics, I will also be learning about how to take care of agriculture, our animals, and everything that benefits our environment.
This autumn, around 1 400 students will start programmes at one of SLU's campuses. The broad scope of SLU's subjects and the university's sustainability focus is obvious on a day like today.

---
Contact