SLU news
Thesis Day 2023 – a great success!
Published: 31 May 2023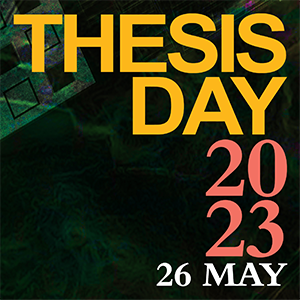 Thesis Day 2023 was held physically at Ultuna and Alnarp campuses and included a poster exhibition, oral presentations, an award ceremony, as well as a much appreciated recognition ceremony where the students received a rose and a thank you.
In addition to the live events, Thesis Day includes a digital poster exhibition with all the students' scientific posters, a summary of the project and information about the students. All posters have a focus on sustainability from different perspectives. The exhibition has already had over 350 visitors and will be open until next year's Thesis Day.
The celebration continued with awards, music, mingle, food & beverages and with lots of fun photos taken in the photo booths. This year, Thesis day raised to a new level - it was both solemn and welcoming. Several participants mentioned fun and interesting meetings with students, and many proud parents and family members participated in both Alnarp and Ultuna. More details about the programmes at Ultuna and Alnarp below.

Recap of the events in Alnarp and Ultuna
Alnarp
Niclas Östlund, Business developer at Green Innovation Park and alumnus of the Landscape architecture programme guided the students and guests through the programme.
SLU alumnus Johan Fogelberg, Hortologist and Personnel manager at Tågerups garden center, welcomed all the guests. After Johan's welcoming words, it was time for five very professional student presentations, all dealing with current and vital issues of sustainability.
Following the presentations, it was time for awards. The Alnarp Academic jury was represented by Fredrik Fernqvist and moderator Niclas Östlund represented the jury for the Global Sustainability Award.
The official program ended with a ceremony, where Åsa Lankinen, Vice dean for doctoral education at the Faculty of Landscape Architecture, Horticulture and Crop Production Sciences held a speech and handed out a rose and a thank you to all students participating in Thesis Day.
This year, Alnarp Student Union band gave an extra touch to the event by playing for the participants.
In conjunction to Thesis day, there was a mingle lunch arranged for alumni and external guests by SLU Alumn and Partnerskap Alnarp. The programme included presentations about the campus developments and a film about the latest research in Alnarp.
Following the Thesis Day program, the Faculty of Landscape Architecture, Horticulture and Crop Production Science organized a closing ceremony for all graduating students and their guests. The closing ceremony was organized for the 2nd year and almost 450 guests participated in the event!
More information about the closing ceremony
Ultuna
Dana Rocklin, International exchange coordinator at the Division of Educational Affairs, was this years' moderator at Thesis Day Ultuna, and she guided students and their guests through the programme. After the well attended poster exhibition with many participants and interesting discussions, SLU Alumna of the year 2023 Anna Richert gave an inspirational speech. After that, there were five presentations by students, covering a wide range of topics from the importance of communication in waste sorting, women's homestead gardening in rural Bangladesh, food supply chains in times of pandemics to cat owner's ability to detect pain in their cat and environmentally friendly packaging at Systembolaget. Close to 100 students and guests listened to the interesting presentations.
Following the presentations, it was time for another highlight - the award ceremony. The academic jury was represented by Karin Hakelius, Senior Lecturer at the Department of Economics, and the jury for the Global Sustainability Award by Ellen Anker-Kofoed, SLU Alumna and Coordinator National Food Strategy at Swedish Agency for Economic and Regional Growth.
The programme closed by Pär Forslund, Pro Vice-Chancellor, giving a very nice and thoughtful speech to the students, followed by a recognition ceremony where all participants were welcomed up on stage to receive a rose and thank you. Thesis Day finished by lots of photos, mingle, appetizers, music and interesting and fun discussions by the posters.
---
Contact