SLU news
Youth, Entrepreneurship and African Agriculture Workshop
Published: 06 March 2017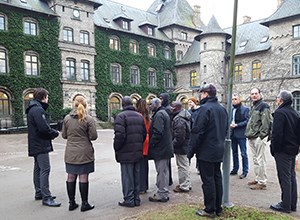 Key stakeholders from universities in Uganda, Kenya and Somaliland met in a three days' student and teacher workshop at SLU Alnarp. The workshop was organized by the SLU Global theme Efficiency in Farming Systems and the Faculty of Landscape Architecture, Horticulture and Crop production Science (LTV).

Background
In the coming 30 years Africa's human population will more than double, and that for a continent with the world's largest yield gap and an increasing food insecurity. This trend is not helped by the facts that Africa's farming population is strongly aging and productivity slows. Youth agriprenuer (entrepreneurs in agriculture) programmes are at the core to counter such trends. Youth is synonymous with change and innovation, and education should equip future farmers with entrepreneurial skills and tools for sustainable intensification to feed Africa and the world tomorrow.
Summary of the plenary session on day one of the workshop, the 23rd January 2017
Aim of the workshop
The aim with the workshop was to identify possible nodes and modes of interactions between visiting universities and SLU, such as exchange studies, research training courses and instruments for financing. The invited presenters illustrated a range of different initiatives where knowledge is used to empower people and identify agriculture related business opportunities.
The SLU Global Theme leader Teun Dekker (Efficiency in Farming Systems) started of the workshop by highlighting some important questions that he hoped would be addressed. What are the opportunities and constraints of agricultural entrepreneurship in Africa? What are the commodities in African agriculture? How does African agriculture differ from European? What does an average African farm look like? And how can we internationalize education in the world's largest global business? Following that, Anders Malmer, Director at SLU Global gave a short introduction to SLU's Policy for Global Development.
Steven Carr (independent consultant), the first among invited presenters, gave an update on current Youth Entrepreneurship initiatives in Africa where he focused on challenges and possibilities of agripreneurship (the term is synonym with entrepreneurship in agriculture, referring to agribusiness establishments in agriculture sectors). He has recently published a report for Nestle: An exploration of Agripreneurship Scope, Actors and Prospects. Malin Gustafsson from SLU Global asked if it might be a good idea to combine youth entrepreneurship initiatives with microfinancing. Steven agrees that both microloans and crowdfunding initiatives exist and are useful. However, he continues, funding is usually not the problem. The main challenge is that mentorships, coaches and networks are missing.
Professor Patience Mshenga from Egerton University in Kenya describes that Egerton use agripreneurship programmes to "help graduates to be job creators instead of job seekers". For example there is an MSc in Agri-Enterprise Development with the aim to commercialize farming where the students go out to famers to help them identify possible business opportunities and develop business plans. In the programme the students will learn the whole process, e.g. from growing wheat to baking and selling bred. Fred Kabi from Makerere University in Uganda highlights that it is important to translate science into a tangible and marketable product, and not only focus on producing publications. Makerere University has created a learning alliance platform to facilitate meeting points where the students can work with farmers to test new products. Agribusiness is used as a tool for the university to gain the public's trust, and in that hopefully create a more sustainable society.
The Open Sustainability Institute (OSI) in Uganda uses knowledge to empower people and communities. They have created a meeting point in Kampala, as well as an online communication platform where research results are communicated in e.g. short videos. Rushongoka Wa-Mpiira at the institute is a former student at Makarere University. He explains that there exist some very fertile regions in Uganda where the farmers still suffer from famine, mainly due to lack of knowledge. Therefore, Rusho continues, is it important to empower the farmers by meeting them where they are; poor rural communities can have many opportunities for entrepreneurship, for example tourism.
Basil Mugonola is a researcher at Gulu University in northern Uganda, a region that suffers from the closeness to major conflict areas in South Sudan and Democratic Republic of Congo. The Gulu University motto is Community transformation through higher education because, explains Basil, "students trained in agripreneurship will look at things differently". The faculty where Basil works facilitates learning platforms that enable students to implement their own agripreneur ideas. The students also get opportunities to reach out to farmer communities in student-farmer consultations where specific problems are identified. The students then get a chance to turn those problems into business opportunities.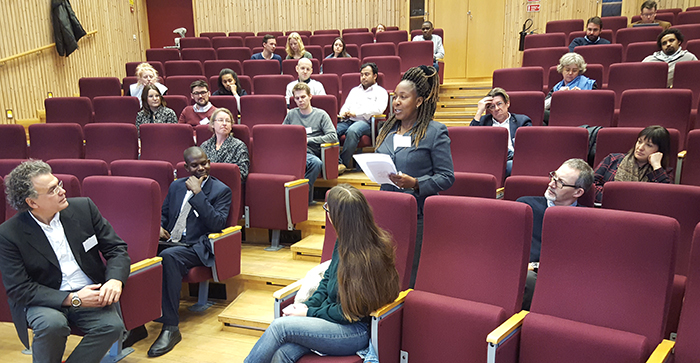 Way forward
What have we learned and where to go from here, Kostas Karantininis (Deputy theme leader at SLU Global) summarizes the workshop. We face major future challenges in African agriculture, including scaling up, identifying institutional constraints and creating bridges between private-public interests. "We have to liberate entrepreneurs to help them express their creativity" by reconsidering the concept of agricultural development to be a much broader concept than what we usually address. Current major challenges with conflicts and migration could also be addressed when providing young people in Africa access to value-chains. These issues are included in the SLU mandate through the Policy of Global Development, and there is a lot to learn when working with farming entrepreneurs for example in student exchanges between European and African universities. Ola Möller, Senior Policy Specialist for Agriculture at Sida, commented on the workshops valuable insight into youth and entrepreneurship. One point that he found especially important was Steven Carr's comment that it is usually not funding that is lacking ‒ but mentorships and networks. The linkage between youth and entrepreneurship is fundamental to progress people out of poverty, Ola continues, but don't forget the gender aspect!
This summary was written by Malin Gustafsson, Focali, on behalf of SLU Global.
---
Contact
---
Links: