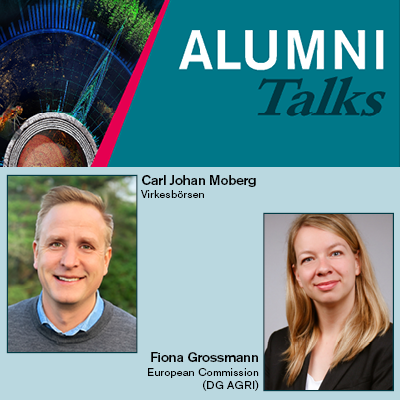 Meet two alumni from SLU who will talk about what they have been up to since their studies.
Alumni Talks is a webinar series with the opportunity to listen to alumni who will share stories from their time as students, talk about what they have been doing since they graduated and give you a sneak peek of what they are doing today. This is the first one of three sessions (see separate event listings for 6 October and 13 October).
Welcome to listen and ask questions in our chat.
Language: English
Register in advance for this meeting
Upon registration, you will receive a confirmation email with the login details.
Alumni participants on 29 September:
Carl Johan Moberg, Head of sales and marketing at Virkesbörsen, and
Fiona Grossmann, Policy officer at European Commission (DG AGRI)
Biographies
Carl Johan Moberg
Carl Johan's interest for forestry started with the family's own forests as well as through summer jobs. Carl Johan finished his studies at the Forest Management program at SLU in 2008.
Together with a partner, Carl Johan runs Virkesbörsen, a digital service company in forest sales. Most of his day-to-day work includes spreading knowledge about forestry and the market.
A normal day includes digital meetings with potential customers, private forest owners and representatives from various purchasing companies, as well as people from other organizations working with forestry, such as banks, real estate agencies and accounting firms.
Carl Johan appreciates the valuable network of contacts from his studies at SLU and he is a person who has a strong driving force for change. He lives in Mölndal with his wife and two children. The Moberg family is an active family who likes skiing and all sorts of outdoor activities.
Fiona Grossmann
Fiona has a Bachelor of Science in Forestry and an Enveuro Master, a double degree in environmental sciences from SLU and University Hohenheim.
After graduating in 2014, she started her career as a Blue Book Trainee at the European Commission in Brussels, and then moved on to work for an environmental consultancy in Germany.
For the past six years, Fiona has been a policy officer at the European Commission (DG AGRI), managing rural development programs for different member states. Now she is the contact point for Austria and their CAP strategic plan, which will help Europe meet the Farm to Fork strategy and adress the European Green Deal goals.
Besides making her work fun, she is a big fan of fika and sunflowers.
Facts
Time: 2021-09-29 12:15 - 12:50
City: Online via Zoom
Organiser: SLU Alumni

---
Contact