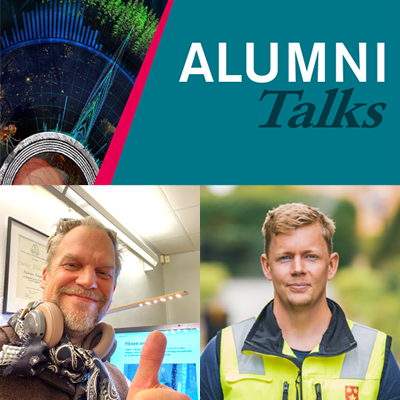 Meet two alumni from SLU who will talk about what they have been up to since their studies.
Alumni Talks is a webinar series with the opportunity to listen to alumni who will share stories from their time as students, talk about what they have been doing since they graduated and give you a sneak peek of what they are doing today. This is the second one of three sessions (see separate event listings).
Welcome to listen and ask questions in our chat.
Language: English
Register in advance for this meeting (Upon registration, you will receive a confirmation email with the login details)
Recording of last week's Alumni Talks which took place on 29 September (available until 5 October)
Alumni participants on 6 October:
Jonni Gend, Head of Unit - street unit, Svedala municipality, and
Sverker Johansson, Producer, Bitzer Productions
Biographies
Jonni Gend
Jonni graduated from the Landscape engineering program at SLU in 2017. After the studies, Jonni worked with city properties in Malmö, before he was offered a permanent employment in Svedala kommun as a planning engineer. In the summer of 2021, Jonni was promoted to Head of unit for the street unit. His work includes planning and managing all outdoor facilities; from water and sewage to playgrounds and bike paths. Jonni's unit is responsible for the operations and maintenance of all the municipality roads, including street cleaning and winter road maintenance.
Jonni's work also includes assessing detailed plans for city development and assisting in the decision-making process for different areas within the municipalities' responsibilities.
Jonni lives in St Herrestad with his wife and two sons.
Sverker Johansson
Science journalist Sverker finished his studies from the forester programme at SLU in 1991. He has worked at SVT, for a newspaper and as a freelance journalist. After some years as Head of Communications at Skogforsk and Skogssällskapet, Sverker started his own production bureau, Bitzer Productions AB.
Today, the company works mainly with scientific journalism and produces documentaries, photo and magazine with a focus on agriculture and environment.
During the last few years, Sverker has won a series of prizes at international film festivals in Cannes, Hamburg and Paris for his documentary films on forestry and environment. In 2020, Sverker won the Publishing prize for Best Swedish educational film.
Facts
Time: 2021-10-06 12:15 - 12:50
City: Online via Zoom
Organiser: SLU Alumni

---
Contact