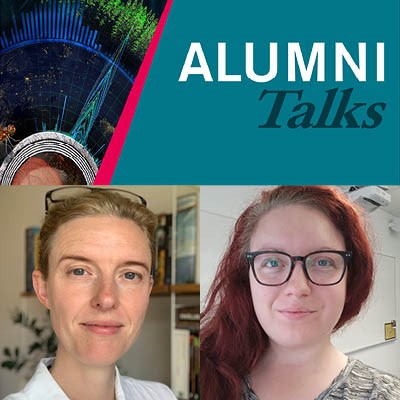 Meet two alumni from SLU who will talk about what they have been up to since their studies.
Alumni Talks is a webinar series with the opportunity to listen to alumni who will share stories from their time as students, talk about what they have been doing since they graduated and give you a sneak peek of what they are doing today. This is the last one of three for this series.
Welcome to listen and ask questions.
Language: English
Register in advance for this meeting (Upon registration, you will receive a confirmation email with the login details.
If you missed last week's Alumni Talks, it was recorded and you can view it via this link:
Recording of Alumni Talks with Jonni Gend and Sverker Johansson (6 October 2021).
Alumni speakers on 13 October:
Rebecka Brattlund Hellgren, Teacher in animal care, Realgymnasiet Uppsala
Caroline von Schantz, Project Manager strategic communication, Sida
Biographies
Rebecka Brattlund Hellgren
Rebecka started her studies at SLU in 2015 in the program for Ethology and Animal Welfare and continued her studies in animal science. She has succesfully completed a bachelor's degree in Biology, and a master of science in Animal Science.
During her studies, Rebecka was an active student. In 2018, she was elected Chair of the Ultuna Student Union, which is a full-time position.
Both during and after her studies, Rebecka has worked as an animal keeper and curator at Furuviksparken. She has also worked with technical experiments at SLU. Now, Rebecka is a teacher in animal care at Real High School in Uppsala.
Carolina von Schantz
Carolina graduated from SLU in 2005 with a master's degree in Economics and Natural Resources. During study years, she was active in the student union and worked full time as the chair of the student organisation SLUSS.
After graduation, Carolina worked in various communication roles for a few years, but joined Tetra Laval and Tetra Pak in 2011, where she worked with international development projects in the food and agriculture sector. Travelling to countries like Sudan, Bangladesh and Myanmar gave her valuable experiences of small-scale dairy development, as well as advocacy for nutrition programmes in schools. In 2019, Carolina decided to work as a freelance consultant, but in 2020 she was offered a communication position at Sida, Sweden's government agency for development cooperation. She will now take on a new role at Sida working with private sector collaboration.
Outside work, Carolina goes to art classes every week, and in 2017 she took a sabbatical year to study sculpture and drawing in Barcelona Academy of Art in Spain.
Facts
Time: 2021-10-13 12:15 - 12:50
City: Online via Zoom
Organiser: SLU Alumni

---
Contact