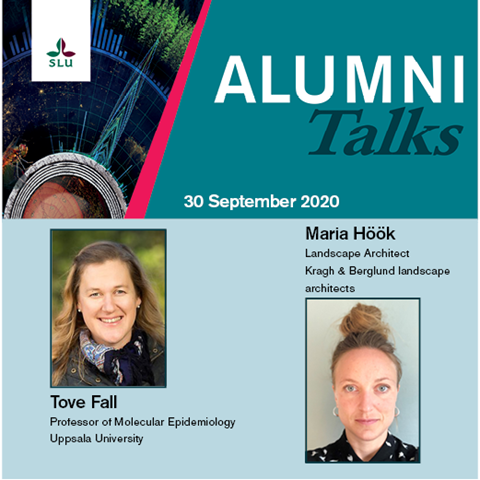 Meet two alumni from SLU who will talk about what they have been up to since their studies.
Alumni Talks is a webinar series with the opportunity to listen to alumni who will share stories from their time as students, talk about what they have been doing since they graduated and give you a sneak preview of what they are doing today. This is the last one for this time, we plan to be back with more soon.
Welcome to listen and ask questions in our chat.
The webinar will be in English.
On 30 September we have
Tove Fall, Professor in Molecular Epidemiology atUppsala University, and
Maria Höök, Landscape Architect at Kragh & Berglund landscape architects
Biographies
Tove Fall
Tove Fall is a professor in molecular epidemiology at Uppsala University, where she also leads a group of researchers with a focus on identifying risk factors and causes for diabetes and cardiovascular disease onset and progression.
Tove attended the veterinary program at SLU, graduating in 2009 with a dissertation on canine diabetes. She has since had a particularly successful career in the field of molecular epidemiology. Tove did her post-doc at Karolinska Institutet, and in 2013 she started at Uppsala University.
Tove is a frequent guest lecturer and has received several recognitions over the years, such as the Oscar prize at Uppsala University in 2015 and the Göran Gustafsson's grand prize for younger researchers in 2016. She has also been in the media for her study on exposure to animals and childhood asthma, as well as more recently, on the topic of Covid-19.
Maria Höök
Maria Höök is a landscape architect and partner in the Kragh & Berglund´s Stockholm office. She did her internship at Kragh & Berglund's Copenhagen office during her studies and after her graduation in 2012 she moved to Stockholm to start up the Stockholm branch.
Today, the Stockholm office has seven employees and Maria has been a partner since 2017. She has been working on a wide range of projects, from urban planning projects and participatory processes, hospital areas and train stations to playgrounds, squares and activity parks.
Besides her work at Kragh & Berglund, she has been working in Nairobi through Architects without borders, and is involved in the planning of the IFLA world congress.
Facts
Time: 2020-09-30 12:15 - 12:50
City: Online via Zoom
Organiser: SLU Alumn

---
Contact