Undervisningsplan, Ultuna, Uppsala
Ultuna campus bike days
internal events |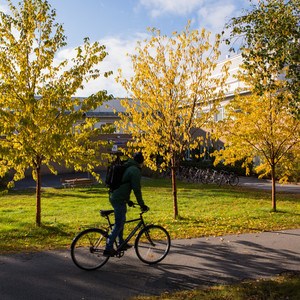 SLU Environment and Ultuna bike group invite students and employees to free basic bike service, financed by money from the SLU Climate fund.
All week September 16 - 20
The company Cykelservice will serve your bike.
Register here, it´s for free! N.b. fully booked.
The information on the booking site is in Swedish, it says:
At the day of service you hand in your bike between 08:00-09:00. You will get a text message when it is finished and collect it as soon as you can, but 16:30 the latest.
When you hand in your bike, you discuss what needs to be done, and if necessary, you get information of additional costs.
The basic service include: adjustments of gear, lubrication of bicycle chain, adjust brakes and check and adjust air pressure in tires, and inspection and protocol with all the bike related actions completed. If you wish reparations apart from this, it costs extra according to
tariff
(n.b. only card payments).
Facts
Time:
2019-09-16 - 2019-09-20
City:
Uppsala
Location:
Undervisningsplan, Ultuna
Organiser:
SLU Environment, Ultuna bike group
Additional info:
Link to document:
Programme
Bike day September 16
One day to promote a greener and healthier campus Ultuna.
When: 11:00 - 13:30
Try out alien bikes – crunchy bikes that don't behave as expected, challenge yourself and others!
Try Ull's electric bike - if you haven't cycled on an electric bike before, this is your opportunity!
Give suggestions on how we can develop campus!
Akademiska hus, Uppsala Cykelfrämjande, SLU Environment and Uppsala kommun will be there to answer your questions.
---
Contact