Emma Tibbling Lingwall: Leeds Beckett University, England
Last changed: 24 November 2023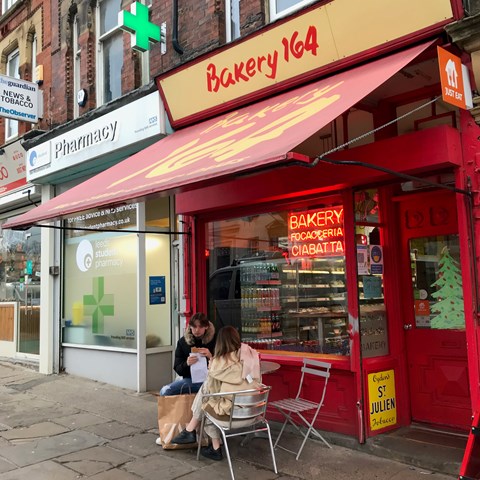 To go on an exchange has always been a goal for me during my university studies. I love to travel and explore – and an exchange is the perfect opportunity to meet people from all over the world, explore new countries and cultures, and to evolve as a person.
Why did you want to do an exchange?
My main reasons for going on an exchange was to: develop my English, both my everyday speaking and my academic English, since I am interested in working abroad after my exam; meet new people and network with like-minded from all around the world; develop my rendering skills; and evolve as a person – prove to myself that I am strong enough to take the scary step of moving abroad. Except for these reasons, I also wanted to explore how it is to study landscape architecture at another university than SLU. The two last years with covid and all the home-studies caused by it left me quite unmotivated and a little bit tired of university – I wanted to see something new, meet new people, and learn stuff that I knew I would not learn at home.
Going on an exchange is the best decision I have made during my university studies, and I would certainly do it all over again. It is an experience like nothing else – it is a crash course in self-development that you will remember and cherish for a long time.
Which courses did you take?
I chose Leeds Beckett University because it is a design-focused university, and I am really satisfied with my study-experience. Although, Leeds was not my first choice. I wanted to go to Sheffield but did not get the spot. Looking back at my experience, I am feeling very happy with my second choice. As I said, Leeds Beckett is a designed-focused university with a lot of aesthetical freedom – perfect for me who wanted to evolve my rendering skills. The University of Sheffield is more academically focused which is nice if you are more interested in reading and writing.
I took two modules during my exchange, one on 20 credits at bachelor level (10hp) and one on 40 credits at master level (20hp).
The bachelor level module – LA501 Strategic Ecological Design – was a design-focused module which ran on half-time during my first 6 weeks in the UK. The module covered designing a visitor centre in the nature reserve of Marsden More and planning and presenting a masterplan of rewilding within the area, as well as specifying the species. Two posters and a design process notebook were created during the module. It was a fun module that included a site visit, but everything went fast and there was not much time for trying different concepts. Although, the teacher Jess was very kind and helpful. The biggest change from home was that the module brief was much less detailed, and it was up to you as a student to interpret it. Overall, the module gave me experiences in taking fast decisions, work effectively, and create a work that I think is best for the site and would work in reality – not only that achieves all the criterions on the module brief. Practically, we had lectures on Thursdays and meet in the studio for tutorials on Wednesday mornings, the rest of the time was self-studies.
The master level module – LA701 Cities Alive – was also a design-focused module and ran on half time during the whole semester. The task was to design a new development placed south of Leeds city with a chosen green infrastructure theme. I would say that this module differs more from the modules back home, and I could imagine that it is quite like our final project in year 5 (exjobbet), because master level in the UK means that you work by yourself most of the time. During the module we meet in the studio on Thursdays for shorter lectures or tutorials. It was up to yourself to choose a subject for your design, what to focus your research on, and to plan your time. The work resulted in a 130-page report that summarizes the whole research, analysis, and design process, and a poster that summarizes the report. This is the largest project I have done so far, and the module gave me many experiences that I will appreciate during my master – how to plan and realize a design project of this size; how to illustrate site survey, analysis, and vision; and of course, a much better academic English.
The general difference from home was that it was up to you as a student to interpret the brief and create a work that you though would be best for the site. The teacher's mindset was "no one will be there to hold your hand when you work, so it is better that you get used to it from the start". This mindset confused me in the beginning because at SLU we are used to detailed instructions and very information-dense module briefs. Although even though it was confusing, it was also extremely developing. I saw my design with new eyes, and I needed to think about what I needed to show and how to do it in the best way. Some examples are that we never were given guidance for how long the report should be, the scale of master plans, the depth of the research, or how far we should have come by a certain time.
Another difference was that the size of the classes. In the bachelor level module we were 12 students, of which only two were exchange students, and in the master level module we were 9 students, of which only one was from the UK. It was nice to study in such a small group compared to SLU and with people from all over the world
What was the student life like outside of your courses?
Before my exchange, my biggest fear was that I would feel lonely and miss home. My fear was for nothing because during my 20 weeks in the UK I almost never felt this way. When you go on exchange you meet people that are in the same situation as yourself, no one knows anyone and everyone are there to meet new friends, explore, and have a good time.
Meeting friends have never been this easy, and I really had the time of my life. Leeds is truly a student city, a bit like Uppsala but five times bigger. It is a party place, so if you like to dance, stay out until 5 am, and explore 300 pubs it is the place to be! Except for partying, Leeds best quality is its location. During my exchange I travelled almost every Sunday, I explored most of the cities in the middle and north of England and the location of Leeds made this possible.
Traveling is easy in the UK, train and busses go everywhere and most of
the places are at maximum a 2-hour ride away. When me and my friends did not travel by ourselves, we went by a student travel-company called Citylife UK which offer cheap travels to a lot of different places. Some destinations that are worth a visit are: Manchester, Liverpool, Newcastle, Lake District, Snowdonia National Park, York, Camden Bridge (cute village), Nottingham, and Sheffield. I stayed at Kirkstall Brewery; a student accommodation owned by Leeds Beckett University. I applied for it when I got my Letter of Acceptance and Kirkstall Brewery offered the cheapest accommodation. First, I was not very happy with it because the location is 5 km west of the city centre, but when I arrived, I really liked it. The accommodation is an old brewery, and the Leeds-Liverpool canal runs through the area. There are 800 rooms of different sorts, all with an own suite but the size of the hall and the interior differs. I stayed in the cheapest room which cost me 106 pounds a week and I lived in a hall with 5 other people. We chaired two bathrooms and the kitchen. I really liked it at Kirkstall, there are nice pedestrian paths along the canal and a small shopping centre where you can find everything you need is just around the corner. I became best friend with two girls in my hall and many other friends lived in the houses next to us, I always had my favourite people close by – and I never felt lonely. I really recommend living in a hall, it is the best way to meet people and make friends. Some of my friend in Leeds lived in small apartments in the city centre and they were much more alone than us who lived in halls. One thing to think about is that the halls do not offer anything other than it says on the website; I needed to buy a pillow, duvet, linen, lamps, and everything I needed for cooking – as I said, there are stores close buy, but it is good to think of these extra expenses.
What was your best experience during your exchange?
My best experiences are undoubtedly my new friendships. Before I went to the UK, I was sure that I would meet interesting people that I liked, but I could never imagine meeting people that would become this important to me. My new friendships have taught me new things about myself, and I have been able to be the person I feel like without anyone's expectations from the person I used to be. The exchange was in one way a new start, a chance to develop myself as a person and explore who I am, what I like, and what I would like to achieve. Another thing that has been amazing is to develop my English, it feels so strange that I 4 months ago was so unsecure about my English, and that I now write and speak without any concerns. My English has not become perfect, but I do not feel bad about it anymore – which was my main reason for going to the UK.
Except for this, the whole experience of doing something completely new and unknown makes you grow so much, and it put things you otherwise take for granted in perspective. I appreciate Sweden and my education back home much more. My exchange has made me realise that Sweden is a country to count on and be proud of when it comes many things, in particularly landscape architecture. Going abroad and explore something new – especially if it feels scary and hard – will boost your self-esteem and your will come back home as a stronger person, filled with new knowledge, experiences, and energy.
What was the biggest challenge during your exchange?
My biggest challenge was the cultural differences. Before I came to the UK, I had a lot of problems with my applications, it felt like everything that could go wrong went wrong. In Sweden we have solid systems for everything, and if something is wrong or unclear you can just call someone, and they will fix it straight away. In England, it is much more laid back. It can often take a long time to get an answer, and it is not a matter of course that people update you without you asking for it. These things were very hard for me when everything troubled, leading to that I felt sad and unmotivated the days before I was going to England. Although, when I arrived, everything got sorted and I truly had the best experience.
Before my exchange I was told that going abroad is a hard lesson in patience, and it really is. I am that kind of person that likes to have everything planed and under control, and well, when you move abroad it is impossible to achieve that all the time. Leading to that you either can panic, or breathe and take one thing at a time hoping that things will sort out. I did both, and the first one much more than the second in the beginning. But in the end, I have learnt to take things more chill and now I like the British way of doing things – everything is not deadly serious and sometimes you can chill, and things will be sorted anyway.
Advice for future exchange students
My biggest advice for going on an exchange is to chill, do not panic, everything will be okay – even amazing – when you get there. There is a lot of paperwork for an exchange, it takes a time, and many things can get wrong. But when you are there and when you can look back on your experience, you will never regret it. Even though all my troubles, and there were a lot of them, I would do it all over again. I have learnt that we are lucky to be swedes because we have the amazing opportunity to study for free and explore the world through studies – for free. If you are curious of the world and any of the things I have mentioned in this report, GO! You will never regret it. You will have the best of time if you have an open mind and can push yourself to meet new people even if it feels scary and uncomfortable. An exchange is nothing without the people you meet, be social, have fun, and try new things that you would not try back home!
If you have any specific questions, please do not hesitate to contact me on
etibblinglingwall@gmail.com.
Go out and catch your adventure!
Cheers! : )
Facts:
Name: Emma Tibbling Lingwall
Exchange at: Leeds Beckett University
Program at SLU: Landscape Architecture
Period of exchange: Autumn 2021
---
Contact