Ellen Bergenfeldt: University of Sheffield - England
Last changed: 10 July 2023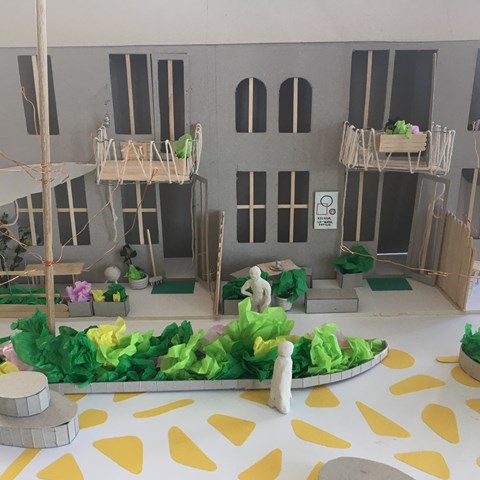 The exchange is a fantastic opportunity to live in another country, experience a new culture, a new language and meet new people. I really happy about choosing landscape architecture at University of Sheffield since they had many interesting modules and England has many beautiful places to offer. Be aware that you might have to do a language test to be accepted to the university though!
Why did you want to do an exchange?
I wanted to do an exchange for several reasons. First of all, I just wanted to take the chance to live in another country, to see new places, experience a new culture and to meet new people. I saw it as a fun challenge as well. I was also hoping to improve my English and I thought it would be interesting to get some new perspectives studying the landscape architecture abroad.
Which courses did you take?
I'm very happy about all my courses, or modules as they are called in Sheffield. I feel like they complemented each other and gave me new perspectives on things. It was also interesting to experience another type of educational system. It was a bit different from what I'm used to at SLU. The modules did for instance run parallel to each other, so we always did two modules at a time which sometimes was a bit hard structuring the hours of the week. The modules consisted of both teaching at uni and self-studying time aimed for groupwork, individual work or reading. They ran in different paces which sometimes also was a challenge. This situation is also a consequence of doing a combination between master and undergraduate modules. It generally went ok though!
I liked that the amount of people in every module was quite small which made the atmosphere more personal. It was easy to talk to the teachers and they were all very understanding. Even if this was during Covid-19 I'm also very happy about that we could have the teaching as normal with teaching at uni, site visits etc. It was also wonderful to have the advantage of spending so many days in Arts tower, with its wonderful view.
The modules I took:
LSC61006 Equity and Participation in Place Change
This year was the first time they held this course so they might do a couple of changes until next year. It was however very interesting, giving me new ideas and perspectives on making public spaces inclusive for everyone. The title does really represent the content. The module had a mix between lectures, reading, discussions, smaller group projects, focusing on a new subject with a new group each week, and then one individual project in the end. I felt like this module gave me new thoughts which haven't really been covered during my years at SLU. This module ran during the first half of the semester. Postgraduate level.
LSC5030 Urban Design Project
Urban Design Project is a module that quite many exchange students have chosen the years before as well. We had one group during the whole module, and it was almost no lectures but mainly group work and tutoring, both on the project site and in the Arts tower. A lot of time was spent on building models where we did one together with the group and one individually. The focus in the module was to learn about transitional edges, what happens between the built environment (architecture) and the public spaces (landscape architecture), which really was interesting. Something I want to mention is that we as Erasmus students actually got money on our student card to buy materials for the models (or other materials) which we didn't figure out until half was through the semester, so a tip is to check that up from start. This module was in the second half of the semester. Postgraduate level.
LSC334 Green Infrastructure and Ecological Masterplanning
Included lectures about green infrastructure, for instance on different materials and substrates, on green walls and different kinds of blue structures. We also did a couple of more creative tasks with for example a drawing workshop. Quite a lot of focus on brown field sites and their ecological benefits. Three whole days were also spent outside on different sites. Everything came down to a design of an urban park. It was fun and interesting but was not very structured. I found it a bit stressful in the end and over Christmas since we started the design process very late. I should also mention that the module was run by Nigel Dunnett which of course was a fun experience and might be of interest for upcoming exchange students in landscape. This module ran over the whole semester. Undergraduate level.
The system of choosing modules is not very structured and I found it hard to find all the information I wanted beforehand, e.g., when they were scheduled, but don't worry about it too much because the staff will help you to choose modules that work together when you get there! The credit system is the double from SLU so I did 60 credits, 20 credits per module.
What was the student life like outside of your courses?
There are so many societies that you can join! A big difference compared to SLU! Check out the Students Unisons' website to find out more but there are societies about everything from crafting and baking, to hiking or all kinds of sports. There is a society for almost everything. I arrived a bit late in the semester which was very unfortunate since I missed out on the Give it A Go (GIAG) weeks when you can go to the activities fair and try out activities with all the different societies. A great tip is to go to these different events and to join some societies. Your semester will definitely become more fun if you have a couple of groups and events to choose between. It is both an opportunity to make new friends and get more new experiences but also just to have regular activities and to be taken to new places by people that knows Sheffield better.
I joined the Walking society and the Spike ball society, and I can really recommend them both! The walking society offered hikes in different places in the Peak District each weekend. It was an easy way to get out in the peaks and to meet a lot of nice people. I can however also recommend to just buy a map of the area as well to be able to go there alone or in a smaller group. I didn't have time for that myself, but it would have been nice to get that kind of nature experience as well and then also have a greater flexibility. I also joined the spike ball society (google if you don't know what spike ball is). They were all very welcoming and the sport is very easy to join without much experience at all. I enjoyed having a regular activity that happened the same day every week.

I also spent some time with my flatmates and other exchange students. They were all very nice and very open to do things since they all were exchange students as well. We had movie nights, dinners together, went on trips etc.
What was your best experience during your exchange?
It's hard to pick something specific, I do really enjoy the feeling of just getting to know a new place, feeling comfortable and home in it, to find new favourite places and get to know new people. If I would choose something specific I have to say that I'm very happy about the decision of taking the train to Sheffield. That was a great experience which I can really recommend. I've written more about it further down.
I also got the chance to go to Wales, more specific Llanberis, over a weekend together with a friend from one of the modules. The landscapes there are way more dramatic than in Sheffield with wonderful views of both mountains and sea. It was also very nice to just leave the town for a couple of days and have a little mini break from everything else. I really enjoyed the days in The Peak District as well.
What was the biggest challenge during your exchange?
The biggest challenge was definitely the whole registration process before I got there and the delays departure that it resulted in. I wasn't expecting to have to do a language test to get accepted, but just the week before I was planning to go, I realised that I needed one which started a long and energy consuming period of uncertainty when I didn't know if I even could go at all. I got accepted in the end but with the result that had to go three weeks later than planned and missed both the two introduction weeks with and the first week of the modules. That made me for instance miss out on all Give It a Go activities which made it harder to join the different societies and find people to hang out with. In addition, it also made the process of finding an accommodation way harder since everything was so uncertain.
Advice for future exchange students
Go there by train!
I definitely want to recommend going to England by train, or actually to other countries in Europe as well! Exchanges offer wonderful opportunities, but I do think we have a responsibility of making all the travelling more sustainable! It doesn't have to be that complicated! It was very fun and made me very proud of myself. It felt extremely good to make a smaller environmental impact and in addition be able to inspire others to do the same! You can also get a scholarship now from SLU if you go by train instead of flying. I can recommend the app Railplanner and Bahn.com which was both very helpful to figure out the whole trip and the different connections on the way! You can also get a lot of help through the Facebook group Tågsemester. If you think it would feel better to not do the journey alone, you can always try to partner up with the other student/students going to Sheffield/England.
You can either choose to buy tickets for a specific route with specific trains and connections, or you can buy an interrail card which I did. The interrail card made it possible to be more flexible and I didn't have to book every ticket separately. Some trains require a seat reservation though, for instance Eurostar (the tunnel between France and England) or the night train I took to Hamburg. If you buy an interrail card, you can also take advantage of the extra travelling days and either stay and explore places on the way, or to travel around a bit in England.
Peak District
If you´re into hiking I can really recommend Peak District! You have to go there at least once even if you´re not into hiking though! It´s located just next to Sheffield and offers a large range of routes. You can either just join the walking society, but I can also recommend to just buy your own map to be able to go there by yourself and your friends and then also be able to make your own decisions on where to go, for how long etc.

Nice specific places to go:
Grindleford – an old quarry easy to reach by train. Look at a map to figure out different paths and routes you can take but you should go up to the top of one of the hills and you will see both a wonderful birch and oak forest. We went there with one of the modules which I'm very grateful for.
Rivelin Valley – a nice place to take a walk.
Beanies – a very nice organic grocery store very close to The Arts Tower.
Information Commons - a nice place to study, very close to The Arts Tower, with long opening hours.
Kelham Island – the former industrial area, now a bit gentrified. The area has a lot of cool and very characteristic brick buildings and some nice pubs and restaurants as well. In some parts you can also walk along the river. A nice place for a stroll.
Botanical gardens
York'
Wales, for instance Llanberis
Accommodation
My plan from the beginning was to find some kind of private house share but in the end, I ended up in Allen Court (one of the accommodations that the University offers) which I'm actually very happy about. It was extremely pricy compared to the prices one is used to here in Uppsala but I'm actually happy about my decision anyways. If you want to find your accommodation, I can however really recommend using the website Spareroom or different Facebook groups.
In the decision of choosing accommodation, I would really recommend to just start with to think about what you want to prioritise. Do you want to live near the city centre? Do you want to share with other exchange students, with British people or with other people from SLU? How much time do you have/would like to spend on finding the right accommodation? How much money are you willing to spend on the accommodation? Do you want to have everything sorted when you arrive in Sheffield or are you willing to have a temporary place to stay to start with while you visit different housing alternatives? Your answers on these questions might guide you in the decision making. In general, I would also just recommend not to have to high expectations on the housing in England, the standard in in general quite low compared to Sweden.
The Language
Be aware that they might require a language test! I was not prepared for that since this hasn't been the case before and I had to do a home TOEFL test. The Mobility team should now by now what the agreement says but check an extra time. Talking about the English in general, and not the test, I was quite worried about not being good enough. You do need to pass the test, but other than that, don't worry too much. It was a bit challenging sometimes, but I think that the modules went pretty ok to be honest.
If you have any questions I´m happy to help! Write to me on Messenger or ellen@bergenfeldt.se
Facts:
Name: Ellen Bergenfeldt
Exchange at: University of Sheffield
Programme at SLU: Landscape architecture
Period of exchange: Autumn 2021
---
Contact