Elina Wikström: The University of Sheffield, England
Last changed: 04 April 2023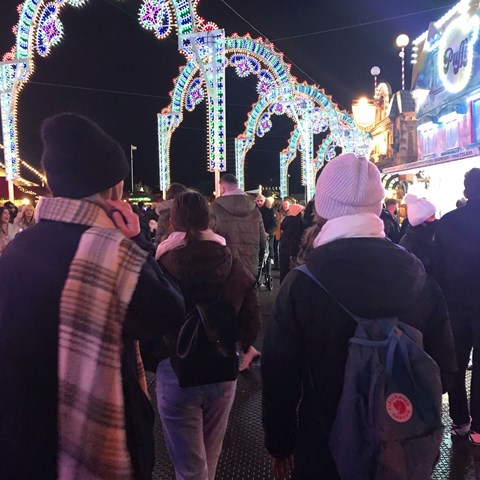 My exchange semester has been filled with new experiences and impressions. I've learnt a lot, both about myself and academically. Going on exchange is definitely not an easy ride, it takes time and effort to prepare and organise everything. That said, I am glad I put in the extra effort since I had a memorable and fulfilling few months.
Why did you want to do an exchange?
I had always had a vision of going on exchange, even before I started studying. Inbetween high school and university I was travelling around the world for about 2-3 years and when I started studying I really missed the feeling of being in a new environment, meeting new people and exploring different cultures. So when the opportunity to go on exchange came, I knew I had to give it a go.
Which courses did you take?
I took three modules which were 20 credits each. I started the semester with the postgraduate level module LSC61006 Equity and Participation in Place Change and a week later the undergraduate level module LSC334 Green Infrastructure and Ecological Masterplanning began. The first one, LSC61006, was scheduled on Tuesdays and Thursdays 10am-5pm. Group work was expected to take place on Mondays and individual reading was scheduled on Wednesdays. The other module, LSC 334, was scheduled on Fridays 10am - 5pm with expected individual and group work on any other day. It was a bit tricky to find the right time balance between the two modules as they weren't in sync with each other. LSC61006 was quite intense with a lot of different and quite emotionally demanding topics being discussed with new tasks each week, sometimes overlapping with the previous week's presentations. The module covered topics such as immigration and segregation, places of protest and grief, place change, participation, equality and challenges within the profession in relation to these topics. We were divided into new groups each week which was fun since I got to know most students in the module. We also went on field trips and had some interesting guest speakers visiting.
After a year and a half of online studies in Sweden, it was quite energy draining to be in a classroom, discussing these topics in front of a group of people in English. The final week or two consisted of an individual project where you got to deepen your understanding in a topic (within the scope of the module) of your own choice. An exhibition was organised by our tutor Clare Rishbeth. She was really good and made sure that everyone was feeling ok throughout the whole time. Since this was the first year that the module was running, she was very flexible and perceptive of what us students were thinking about the methods and content of the module.
LSC344 started out very slow since this module was scheduled less hours per week and instead ran throughout the whole semester. In the beginning we went on field trips around Sheffield and the Peak District as well as site visits to our project site around the Sheffield Viaduct. Planning ahead was not the strongest quality of this module, many changes happened with short notice and the time frame and criteria for each stage was a bit vague. That said, I really enjoyed this module with the inspiring tutors Nigel Dunnet and Fiona McQuaid. The teaching was engaging with some exploratory design workshops and individual tutoring as well as group presentations during stage 1 (site analysis) and stage 2 (vision and concept). Stage 3 was the major part of the module where we developed a masterplan and detailed design. During this stage we had a lot of time on our own with a whole month in between tutoring - quite challenging!. Overall it was a module worth taking as I enjoyed the subject and learned a lot from the tutors.
Halfway through the semester the module LSC61006 ended and LSC5030 Urban Design Project began. This was a very practical module with model making being the main tool to explore transitional edges, the interconnection of indoor and outdoor spaces and architecture and landscape architecture. About two weeks before the module started you were required to provide a list of your group members, so make sure to talk with students in your LSC61006 module to create a good group as you will be working closely together the whole time. LSC5030 was packed with literature and theories which were meant to be read alongside the model making. I found it hard to find time to read as the group work, site visits and model making took a lot of time. Our tutor Kevin Thwaites was knowledgeable and good but didn't always take in consideration that we had another module running parallel to his. The final weeks before christmas holidays were pretty stressful but I was in a good group so working on the models together until late hours wasn't too bad after all.
Overall I must say that the teaching has been of really high quality with all main tutors being professors in their specific field. Because of their expertise I was able to learn more in depth about subjects, something I have felt a lack of at the LASU programme. The university campus is massive with the Department of Landscape Architecture being situated on the 10th to 13th floor of the Arts Tower, providing panoramic views of the city. The libraries have a lot of good literature and great study spaces. Support is easily accessible if you need it, I attended a time management workshop in the beginning which I found helpful.
What was the student life like outside of your courses?
There are about 300 societies and clubs to choose from at the Students Union so I can guarantee that there is something for everyone. I joined the dancing society for contemporary dance, the yoga and pilates society for amazing ashtanga yoga, the photography society for like minded photography nerds and the real ale and cider society for the most hilarious group of pub-loving people. I was thinking of joining a sports club but there just wasn't enough time. There is also a campus gym with classes and a swimming pool.
The students union has everything you need. Cafés, a convenience store, lunch restaurants, bars and clubs hosting different events most days of the week. This is also where the Global Campus ambassadors organize events for international students, although I never attended one.
I went on many give it a go day trips during my time in Sheffield. Booking a ticket means getting on a bus with a bunch of other students and travelling to another city or town for the day. It's a great way to see the British landscape and explore new places! I went to Whitby, Oxford, York, Llongollen and Chester - I can recommend all of them. Me and a group of friends also went to London for a long weekend, the Flix bus is super cheap and takes about three and a half hours.
What was your best experience during your exchange?
I would say that my best experience during the exchange was the everyday life on campus and around the city. Being in the Arts Tower and seeing the weather changing twenty times a day right in front of you. Sheffield is a really student friendly city with walking distance to everything and there are some cool bars, cafés and art studios to discover! Having on-site learning was also a big plus after such a long period of online learning.
What was the biggest challenge during your exchange?
The weeks prior to moving and my first week in Sheffield was a mess. Before I arrived I had been waiting for the host university to send me my accommodation offer. When only two weeks remained until registration started I sent an email asking if there was a problem. They replied saying that I didn't meet the language requirements and therefore weren't applicable to register. This came as a surprise as SLU had told me that I didn't need any extra English language tests. After several emails it was decided that I did need a test, either an IELTS or TOEFL test. I managed to get an online test-time with TOEFL two days later and passed the test. I would recommend at least a week's preparations to understand the structure of the test as it is quite fast paced and takes 3-4 hours. Since the registration process was delayed due to this, I had to find private accommodation as I didn't have the time to wait for university accommodation. I found a place at Student Roost, a company with several student accommodation buildings in the city. It was quite dirty and I had to move to another apartment in the beginning due to pests. I also missed the welcome week due to the registration problem as well as the introduction day for new students in the landscape architecture department. After a really messy first week I had sorted most things out, but it was a challenging start and I did feel quite left out to handle everything on my own.
Advice for future exchange students
Make sure you meet the requirements for registration, you want an unconditional offer, not a conditional one. If you would like living with other international students. I would recommend going for Allen Court if you get the offer. Almost all my friends lived there, it was clean, easy to socialize in between apartments and they have a big community room. The only downside is that it's a bit more expensive than other, older university accommodation and not many UK students live there so you might not be immersed in British culture as much as if you find a private house share.
Go on give it a go events in the beginning, it's a great opportunity to try out different societies and clubs events and get to know people. If you need kitchen supplies or other things for your flat, there's a good second hand store called Emmaus superstore near the canal. For duvet and linen etc., Primark or IKEA is the place to look. Sheffield is very hilly so bring good shoes for walking. Bus and train services run frequently out to the Peak District if you want to go hiking. My final advice is to explore the quirky bars, cafés, restaurants and second hand shops that the city has to offer and lastly to enjoy the parks in the surprisingly sunny weather!
Facts:
Name: Elina Wikström
Exchange at: The University of Sheffield
Program at SLU: Landscape Architecture for Sustainable Urbanisation
Period of exchange: autumn 2021-22
---
Contact