Presentations (ppt)
Last changed: 03 July 2023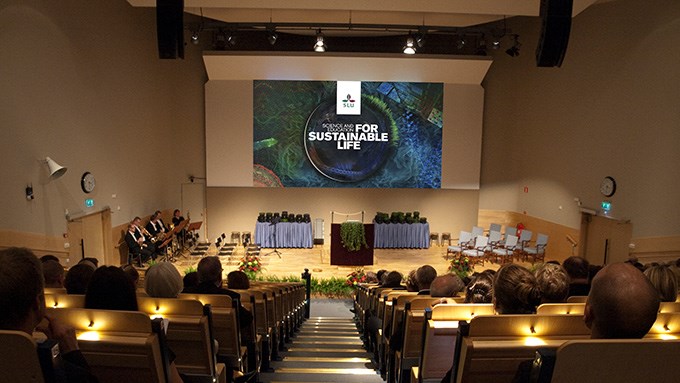 In SLU's Powerpoint template you will find start pages in the characteristic colours of the university, a pause page with SLU's image collage and several different kinds of templates for text and images.
The template is in line with our visual identity and helps us to communicate in a uniform way.
The slide show below shows some examples of what the slides in SLU:s Powerpoint template looks like and recommendations on how to use them.

Find the Ppt-templates directly on your SLU standard PC
If you have a SLU standard-configuration PC, the templates are available in Powerpoint.
Open the programme Powerpoint.
Select Custom and then enter the folder Personal.
In the Personal folder you will access the templates and a user guide.
There may be invalid templates under Custom, in addition to the "Personal" folder. That is because the program saves the most recentlyt used templates there. Always make sure that you open the folder "Personal" to access the correct templates.

Two different formats
Choose between standard 16:9 (widescreen) and the older format 4:3 depending on where you will be giving your presentation and what equipment you will be using.
SLU presentation ready to use
There is also a general presentation about SLU available directly from Powerpoint (under Custom/Personal). Use it as a hole or ad some of the slides to your own presentation.
Download the SLU Powerpoint templates here
If you have an Apple or a non-standard PC, you can download the templates below.
Templates for 16:9 widescreen and 4:3
Presentation ready to use
When you are going to present what SLU is you can use this presentation (ppt) that is ready to be used. There is both a version in Swedish and English.
If you have a SLU standard-configuration PC, you can also find the presentation in Powerpoint among the ppt-templates.
The presentation can be used in different ways
You can use the whole presentation and add slides that are relevant to what you do.
You can also pick the slides you need from the presentation and add them to your own presentation.
In the notes section, there are speaker notes that you can use as a framework for your talk. Often, there are links to sites where you can read more.
Feel free to add your own speaker notes!
Technical advice
The help function in Powerpoint also contains technical advice for creating presentations in Powerpoint. Click the question mark (?) in the upper right-hand upper corner, or press F1, to launch the Powerpoint help.
Not sure how the template works?
Learn more about how to use the SLU Powerpoint template with short instructional videos.
---
Contact
Brand Management and Communication Platforms Unit
Division of Communication
---
Links