Awards
Last changed: 15 June 2021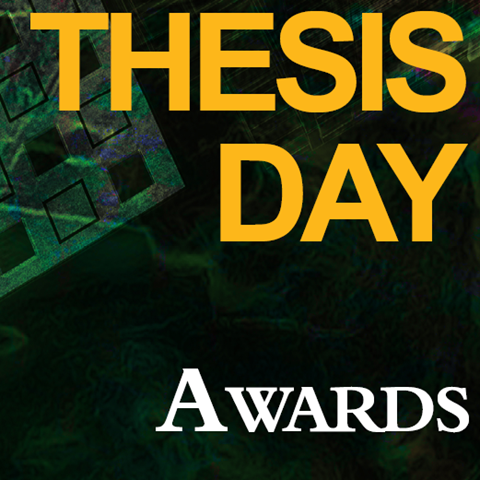 There are three competitions available to participate in. New for this year is the Global Sustainability Award, where you can pitch your project to a jury of alumni, showing them how it can help reach the Sustainability Development Goals. Since Thesis Day is completely digital, anyone can participate and present regardless of location.
Awards available for Thesis Day 2021
Best scientific poster
By submitting your poster, you will automatically be a part of this contest. An academic jury will select the best poster using the following criterias:
Clear sender
The title attracts interest and is readable at a distance
Not to much text
Good graphics
Good layout and a logical structure
Clear conclusions
The winners will receive their award during the live broadcast.
Present your project during the live broadcast
Take the opportunity to put the spotlight on your project during the live broadcast. Three projects are selected by a jury to present their work during the live broadcast. Please check the box in the registration form to take part in this.
The winners are notified by 7 May, and are expected to participate in a workshop on presentation techniques. The workship is split up in two sessions: 12th and 19th May (at 13.00-15.00).
Global sustainability award
How can your thesis save the world? Pitch the essence of your thesis to show how it helps meeting the Sustainable Development Goals to a jury of SLU Alumni from a broad field of expertise.
How to partipate?
When registering for Thesis Day, note that you would like to participate
Submit a one-page pitch by 10 May 2021 to thesisday@slu.se answering the following questions:
SDG: Which of the Sustainable Development Goals does your thesis address? More information about the goals are available at https://sdgs.un.org/goals.
Need: What is the global need for your idea? Describe the problem.
Approach: What is your approach to the identified topic/need? Describe your solution.
Benefits: What are the benefits for people or nature with your idea/topic?
Describe the positive effects of your idea of a solution.
Obstacles: Are there any obstacles for your idea to make true global change?
Criterias used by the jury
Level of overall impact of your topic towards the SDGs
Future impact of your topic
Visible impact on local and/or global level
Comprehensibility of your idea towards a general public
The winner will receive the award during the live broadcast.
Jury 2021
Academic jury for Best scientific poster award
Karin Hakelius, Senior Lecturer at the Department of Economics
Lotta Nordmark, Lecturer at the Department of Biosystems and Technology
Roger Petterson, Head of Department, Learning and Digitalisation
Henrik Rönnberg, Vice Dean, Veterinary Medicine and Animal Science board of faculty, and Professor at Department of Clinical Science
Jannie Teinler, Communications Officer at the Library, Språkverkstaden
Alumni jury for Global sustainability award
Ellen Anker-Kofoed, Coordinator National Food Strategy, Swedish Agency for Economic and Regional Growth
Sepehr Mousavi, Co-founder and Chief Innovation Officer, Swegreen
Johanna Witzell, Associate Professor, SLU and Editor-in-Chief Scandinavian Journal of Forest Research
Emelie Zonabend König, Research Advisor, SLU Global
Niclas Östlund, Business Developer, Green Innovation Park
---
Contact
thesisday@slu.se
018-67 11 39 / 018- 67 20 18