Get to know Umeå
Last changed: 17 March 2023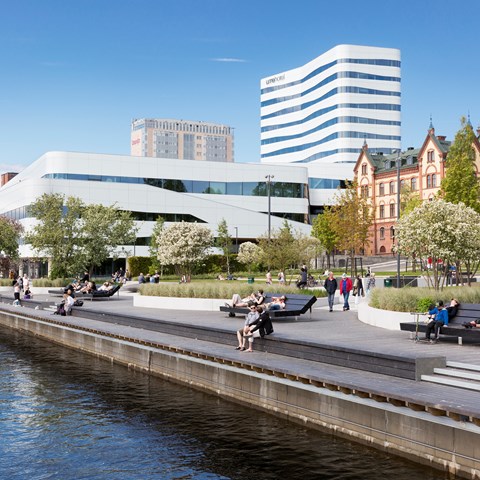 Surrounded by deep green forests, scenic parks and clear, blue lakes, it is easy to see why Umeå is one of the fastest growing city in Sweden.
With 110 000 inhabitants, Umeå is the largest city in Norrland, and each year over 800 000 people pass through Umeå's airport. It takes less than an hour to fly from Umeå to Stockholm, and four hours to fly to Brussels.
Umeå is considered a youthful and lively city, and is highly ranked amongst Swedish students. In Umeå it is only ever a short distance to the nearest park or forest, and you can discover new and exciting outdoor activities with every season. You can enjoy Umeå's active nightlife, or experience some of the many cultural activities on offer, such as film festivals, art exhibitions, large sporting events, or music festivals.
The IKSU Sports Centre, located in walking distance to SLU's campus, is the biggest indoor sports facility in Scandinavia and takes up an area of 15 500 square metres. With over 25 000 visitors every week, IKSU offers everything from rock climbing to indoor beach volleyball. There are also a variety of outdoor activities on offer, such as cross country and downhill skiing, ice climbing and hiking.
The winter in Umeå brings lots of snow, and with it, more than 400 km of cross country ski trails. World-class skiing areas are easily accessed from Umeå. For example, you can drive to the mountain range dividing Sweden and Norway in only four hours. Here you can stay at first-rate resorts and go hiking, downhill skiing and mountainbike riding.
---
Contact