Poster presentation
Last changed: 12 May 2021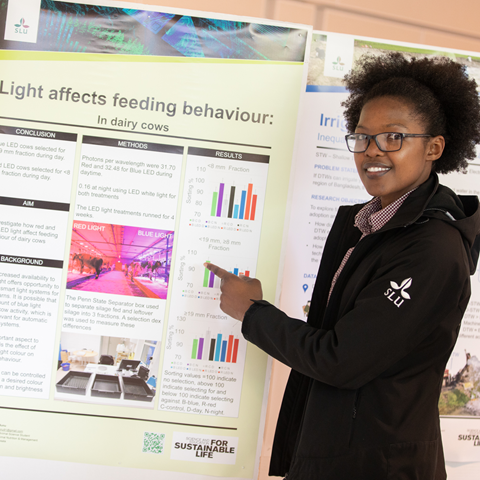 The poster presentation on Thesis Day is digital, making it possible for everyone to participate, regardless of where you are located, and providing an opportunity to reach a wider audience. We look forward to seeing your poster!
Poster format
SLU has a template for scientific posters. In the template you can change the different elements according to your needs (color, images, text, etc.)
Make the poster in Swedish or in English
You can use portrait or landscape layout
You should make your poster in the template for scientific poster. Making the poster in programs like Adobe InDesign is also an option, as long as the size/dimensions are the same (A1 size or 1920x1080 px) and you adhere to the policies for use of the SLU logo, etc.
About me
Take the chance to promote yourself to future employers. The poster webpage on the event website has a section for the author(s) to include a personal presentation. It is an opportunity to include information about yourself, your interests, contact information, link to your LinkedIn profile, etc.
Another possibility is to record a pitch/presentation about your project and post this in the video section of your LinkedIn profile.
Example from prior participants
Awards
There are three competitions available to participate in. New for this year is the Global Sustainability Award, where you can pitch your project to a jury of alumni, showing them how it can help reach the Sustainability Development Goals. Since Thesis Day is completely digital, anyone can participate and present regardless of location.
Link to awards page for more information
Preparation of material prior to submitting
Submission deadline: 20 May 2021 at 16.00
---
Contact
thesisday@slu.se
018-67 11 39 / 018- 67 20 18

Page editor: slualumn@slu.se